Listen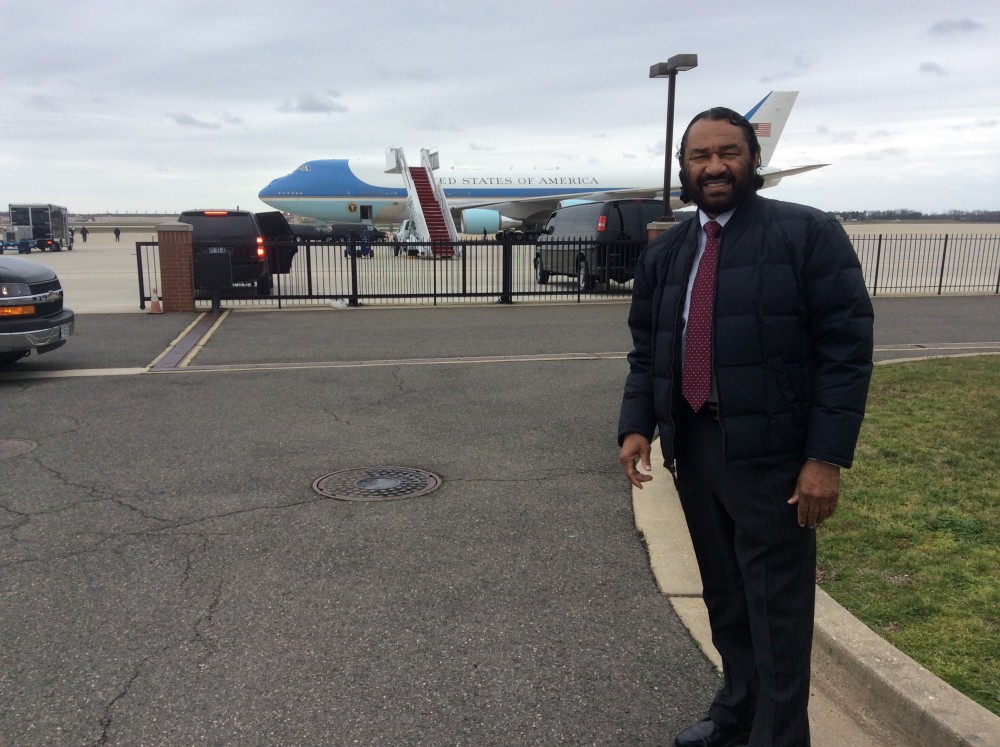 Rep. Al Green standing in from on Air Force One before traveling to Havana, Cuba on March 20, 2016.
Houston Congressman Al Green was part of a bipartisan delegation that accompanied President Barack Obama on his historic visit to Cuba last week. This was not Green's first visit to the communist island. He accompanied the late Congressman Mickey Leland to Cuba in the 1980s.
Reflecting on the changes since his previous trip, Green says, "Cuba has a workforce that is primarily associated with the government, and this time, there are more entrepreneurs. There are more people who are self-employed than before, which is a good thing, to see people having the opportunity to go into business for themselves."
Cuban leader Raúl Castro began implementing economic reforms shortly after he succeeded his brother Fidel eight years ago.
"It appears that persons who can start microbusinesses are doing fairly well, the kind of businesses that you can start on your own," Green says. "We went to a restaurant that was owned and managed by an individual, that was not a government restaurant."
Apart from meeting with entrepreneurs, the U.S. delegation also met with a number of Afro-Cubans. The Castro government has long claimed the country's communist revolution eliminated racism.
"It is no longer codified in the law," Green says, "but there is some de facto racism, based upon what we gathered from the Afro-Cubans, and that kind of racism is the kind that is always difficult to fight, just as we still have racism in our country."
Non-whites make up more than a quarter of Cuba's population. But they hold a far lower proportion of leadership positions in Cuba's government and public sector industries. They're concerned about losing out as the country's private sector develops.
Hard currency is in short supply in Cuba. That's been changing since the Obama administration loosened restrictions on the amount of money Cuban-Americans could send their relatives on the island. Here too, though, Afro-Cubans are at a disadvantage.
"They don't have a lot of people that left Cuba and came to the United States and, as a result, are sending dollars back to them," Green says, "so they're interested in seeing if there's some way for them to receive some aid and assistance."
Green says most Cubans he spoke with are anxious to do business with the United States. But the changes President Obama has made in U.S. policy toward Cuba only go so far. Ending the five-decade embargo on trade and investment with the island will require an act of Congress.