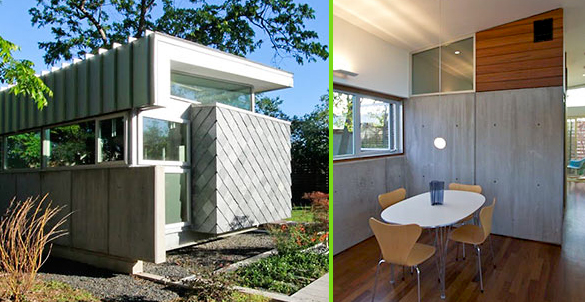 You might have seen them lined up on the side of the road for sale or on HGTV, where they have their own show.
Tiny houses
and tiny living are the big — or well, small — new thing, from homes on wheels to micro-cottages to a new, soon-to-be-built condo development called
The Ivy Lofts
that features homes as small as 300 square feet.
In a state that prides itself on an everything-is-bigger-here mantra, how are such tiny homes being received?
Houston Matters producer Paige Phelps asks three design-savvy guests: Allyn West of Rice Design Alliance, Jeffrey Brown, founding partner and design principal of Powers Brown Architecture, and Mark Schatz, one half of M + A Architecture, who built a small home with his wife that he says garnered a lot of attention.
(Above: A tiny home built in Houston by architect Mark Schatz for his family of four is 980 square feet. Images courtesy: M + A Architecture)
MORE: Urban Pioneers Prove You Can Live Large in Tiny Homes (Houston Chronicle, Dec. 18, 2011)