Listen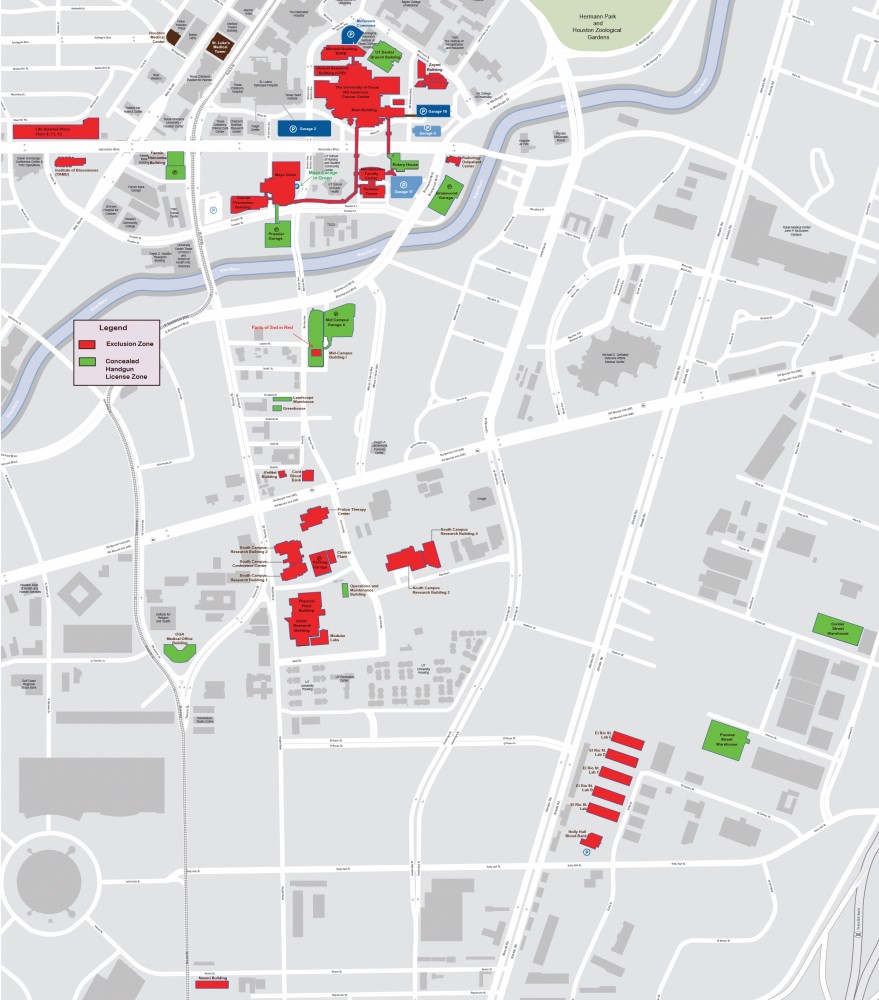 This map shows proposed zones permitting and prohibiting concealed handguns at MD Anderson Cancer Center. The cancer hospital was required to submit the plan because it operates as a component of the University of Texas.
MD Anderson Cancer Center and UTHealth have released their campus-carry plans, along with maps showing which buildings will still bar concealed handguns.
Both academic medical centers include clinical treatment buildings, classrooms, offices, and support facilities, but as members of the University of Texas system they must comply with the "campus carry" law that goes into effect August 1.
The law allows concealed handgun license holders to carry their concealed weapons on campus, but some areas may be excluded. At MD Anderson, administrators have ruled out any areas where patients are being treated, which includes entire buildings in the medical center and all five MD Anderson's satellite suburban outpatient centers.
"Nothing is really changing for patients and folks who are coming here for life-saving treatment," said deputy chief compliance officer Max Weber.
In addition to treatment areas, research laboratories are also off limits to concealed handguns, even by permit holders. Labs often contain hazardous materials, flammable chemicals, or machines like MRIs that could be affected by a metallic object.
That leaves a few types of campus buildings at MD Anderson where concealed handguns will be allowed: administrative offices, parking garages, maintenance buildings, and the Rotary House, a hotel owned by MD Anderson where patients can stay during treatment.
Other public universities have had to make difficult choices about where to allow handguns, such as classrooms or dormitories. But the special nature of MD Anderson's clinical activities allowed for larger exclusion zones. The plan will be reviewed by the UT Regents in May.
"I don't personally expect any pushback," Weber said. "I think that we follow the law to the letter. I think it honors the spirit and the letter, our particular plan does."
UTHealth's campus carry plan follows a similar script: it bars concealed handguns from all clinical areas and most laboratories.
"Our overarching goal has been to find an appropriate balance between respecting the spirit of the law and maintaining the safety of our students, employees, patients and visitors," UTHealth President Giuseppe N. Colasurdo, M.D., stated in an email to the UTHealth community.