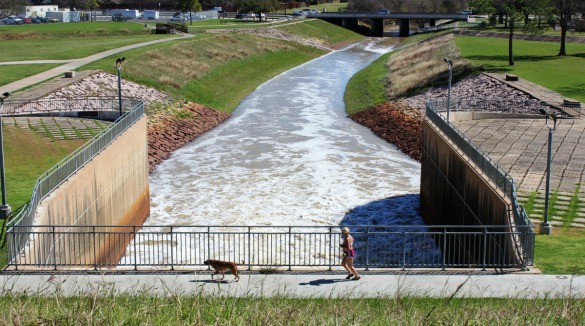 Last week Houston saw some flooding. Thankfully it wasn't quite as bad as predicted, but that's not to say we're out of danger for the year.
Hurricane season is right around the corner, and the city's flat landscape means flooding, drainage and mitigating water are always top of mind for some people — especially those who live in flood-prone areas.
So we felt it might be time to take a look at what's happening with the city's and the county's efforts to aid drainage. And it's also a good opportunity to check in with a flooding expert to see what's being done — and what needs to be done — to stop Houston from flooding every time the rain descends upon us.
To do that, we talk with: Mark Loethan, deputy director of Planning and Development Services with the City of Houston's Department of Public Works and Engineering; Mike Talbott, the executive director of the Harris County Flood Control District; and Samuel Brody, director of Texas A&M University's Center for Beaches and Shores.
(Photo: Dave Fehling, Houston Public Media)
MORE:
Report: Greater Houston's a 'Sitting Duck' for the Next Big Storm (Houston Matters, March 9, 2016)
Despite Flood Control Projects, Houston Remains Vulnerable to Floods Like This Week's (Fox News, May 28, 2015)