Listen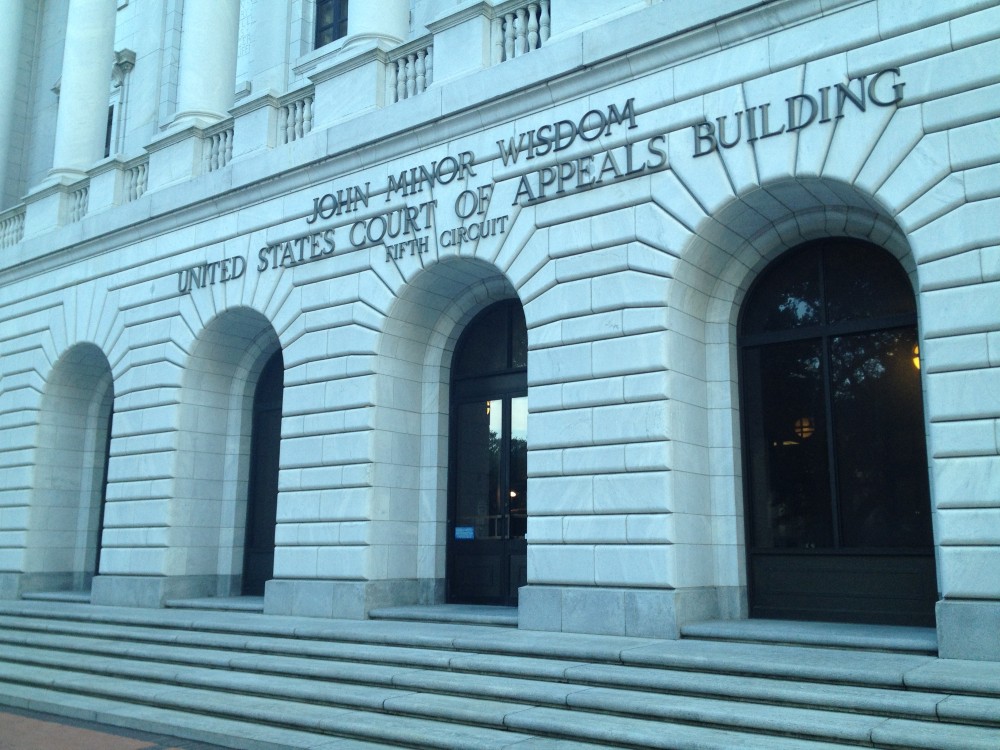 Fifth Circuit Court of Appeals in New Orleans
The Texas Voter ID law is heading back to the U.S. Fifth Circuit Court of Appeals. The latest move all but guarantees the law will remain in effect through Election Day.
Last summer, a three-judge panel of the Fifth Circuit Court held the Voter ID law violated the 1965 Voting Rights Act. The state immediately appealed. The court has now agreed to give the case an en banc hearing — that is, a review before the full complement of active judges.
Texas Attorney General Ken Paxton is optimistic.
"We think we have a good case," he says, "and we think this is a strong step forward towards defending our state voter ID law."
The law requires most citizens to present an accepted form of photo ID in order to vote. Thirty-three states have such laws on the books, but Texas' is by far the strictest, its list of accepted forms of ID the shortest. Advocates of the law say it is necessary to prevent fraud. Opponents charge it discriminates against minorities.
"There was no evidence at trial that there was any kind of — they didn't show any discriminatory effect," Paxton says, "There's been no example of photo ID really affecting behavior in any negative way."
Numerous African-American and Latino office holders filed suit to block the law when it took effect in 2013. Rolando Rios is a San Antonio-based attorney. He's representing the Texas Association of Hispanic County Judges and County Commissioners in the case. Rios says that in his experience, when a civil rights case goes up to the full Fifth Circuit for a review, it's rare that a lower court ruling in favor of the plaintiffs is allowed to stand.
"Right now, there's about 12 judges on there, and there's eight conservatives and four more progressives," Rios says, "My sense is that they're going to try and get the votes to have a majority on the en banc court to reverse the three-judge [panel] and the district court."
But that's not likely to settle the matter either.
"Probably they won't do it any time soon," says Gerald Treece, a professor of constitutional law at South Texas College of Law. "They'll have the arguments, and then decide it three or four months later at the earliest. And then the next stop after that is Washington. And maybe the court will be the [current] eight judges, maybe they won't."
If the Supreme Court does deadlock 4-to-4, the Fifth Circuit's ruling will be allowed to stand for Texas, though it will have no effect on any other state's voter ID law. Regardless, the high court won't get the case until its next term begins in October. That means it's not likely to issue a decision until next year.