Listen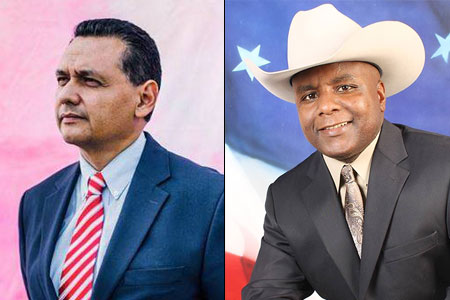 Ed Gonzalez and Jerome Moore face a runoff election May 24
The March 1 Texas primary left nearly a dozen Houston-area races up in the air. Crowded fields kept any one candidate in these contests from claiming a majority. In these cases, the top two vote getters will go to a runoff on May 24. The biggest prize still up for grabs is the Democratic nomination for Harris County Sheriff.
The Democratic runoff will pit former city councilman and Houston Police sergeant Ed Gonzalez against Jerome Moore, a 16-year veteran of the Harris County Constable's Office, Precinct 5. Gonzalez led Moore 44 percent to 30 percent in the first round of voting.
"Ed Gonzalez is the presumptive favorite," says Brandon Rottinghaus, a political science professor at the University of Houston. "His name recognition is much higher. His experience seems to be much more directed towards not only the law enforcement side of things but also the management and fiscal side of things."
The winner of the rematch will face incumbent Sheriff Ron Hickman. The Republican Hickman was appointed to fill out the term of Democrat Adrian Garcia, when Garcia resigned last year to run for mayor. He's won praise for his work in combating human trafficking, but he's also come in for heavy criticism over poor conditions in the county jail. The Justice Department began its investigation into jail conditions in March 2008, when Tommy Thomas, Adrian Garcia's predecessor, was sheriff.
But the sheriff's biggest challenge may come from within his own party.
"Sheriff Hickman said this on [primary] election night when he got the nomination. A Donald Trump at the top of the ticket is a big problem for him," says Bob Stein, a professor of political science at Rice University. He says Trump's stance on immigration, and anti-Hispanic rhetoric, could cost Hickman dearly.
"A lot of Hispanic Republicans – of which there's a substantial number, 20 percent – will feel much more comfortable voting, if not for Hillary Clinton, not for Donald Trump [either]," Stein says. "And then they start going down the ticket and seeing a name like Ed Gonzalez, the possible nominee for the Democratic nomination for the county sheriff, and they have an affinity there."
Stein says Hickman will face trouble with plenty of non-Hispanic Republicans as well. Those who decide not to vote a straight GOP ticket, in order to avoid voting for Trump, may skip the down-ballot races all together.
Editor's Note: A statement regarding "problems Hickman inherited from Garcia" was clarified from an earlier version.