Listen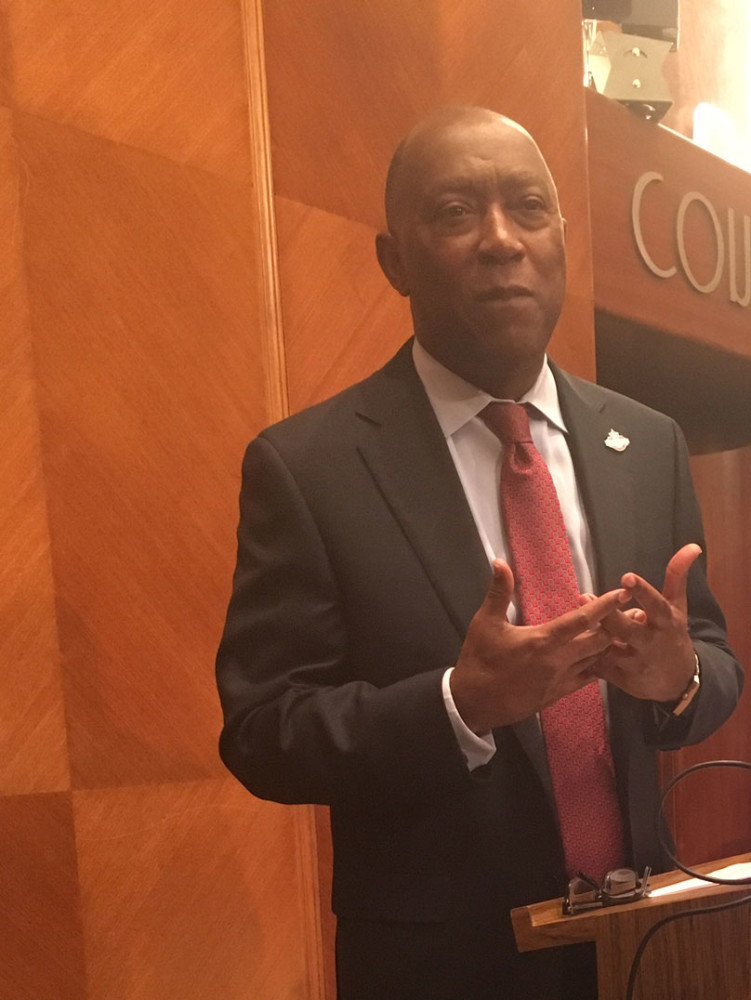 Mayor Sylvester Turner at Houston City Hall, in the City Council Chamber on March 9, 2016.
The city of Houston has severed negotiations with Waste Management over a new recycling contract. Mayor Sylvester Turner says the city is currently in talks with other companies to provide recycling services after the current contract expires next week.
Speaking before the city council, Mayor Turner said Houston-based Waste Management had insisted on a six-year deal that would cost the city $18 million, an increase of several million over the current contract. The cost of processing recyclable materials has risen sharply as commodity prices have fallen.
The city is facing a budget gap for the coming fiscal year of $145 million to $160 million. Turner said he had tried for weeks to reach a compromise with Waste Management, either to have the city and the company share the cost increase or to reach a contract for a shorter period.
"When you look at what they were proposing for a two-year deal, it would cost us $7,257,600 for two years, and if you add another year in extension, it would be over $10 million on a three-year contract," the mayor said. Turner said he had explained the city's financial position to Waste Management CEO David Steiner, but that Steiner refused to budge.
The mayor then read into the record an e-mail exchange between Steiner and a recycling advocate, which the advocate had forwarded to the mayor. In it, Steiner said the company was losing $1 million a year doing business with the city. Turner said the e-mail accused him of not negotiating in good faith.
"'Then, two weeks ago the Mayor called me,'" he read, "'He said that he realizes that we are not in the business of losing money, but could we just continue to lose money for another 18 months so that he would not look bad as a politician.'" Turner flatly denied he had said this.
Waste Management released a statement calling the city's rhetoric "unfortunate" and the mayor's proposals "economically unworkable."
Mayor Turner says curbside pickups will continue after the contract expires on March 16, though some disruption of service is possible. The mayor is currently in talks with other companies to provide recycling services.
See a copy of Waste Management CEO David Steiner's e-mail here: