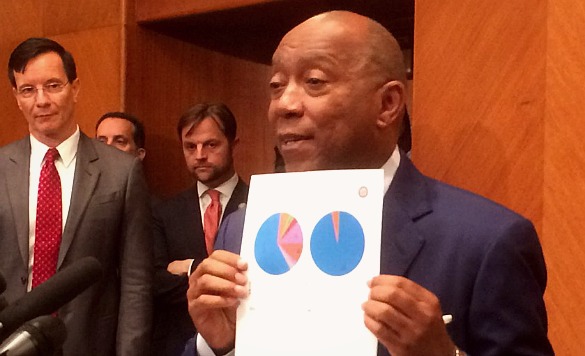 Upon taking office in January, Mayor Sylvester Turner's first action was to establish a new policy in hopes of better addressing Houston's ongoing pothole challenges. He has also begun a full-scale review of the city's budget. Of course, those efforts represent just some of the responsibilities of being the mayor of America's fourth-largest city.
On this edition of Houston Matters, we talk with Mayor Turner about potholes and the budget, but mostly, it's an opportunity for you to ask your questions of the mayor directly.
(Above: Mayor Sylvester Turner holds up a chart showing the number of potholes the city has fixed since his inauguration. Photo: Florian Martin, Houston Public Media).
Also this hour: Paige Phelps talks with artist and architect Ned Dodington about a six month long sculpture/architecture/animal habitat project he calls BioCity. It's on view at the Lawndale Art Center through June 11.
Houston Matters offers a free daily, downloadable podcast here, on iTunes, Stitcher and various other podcasting apps.