Listen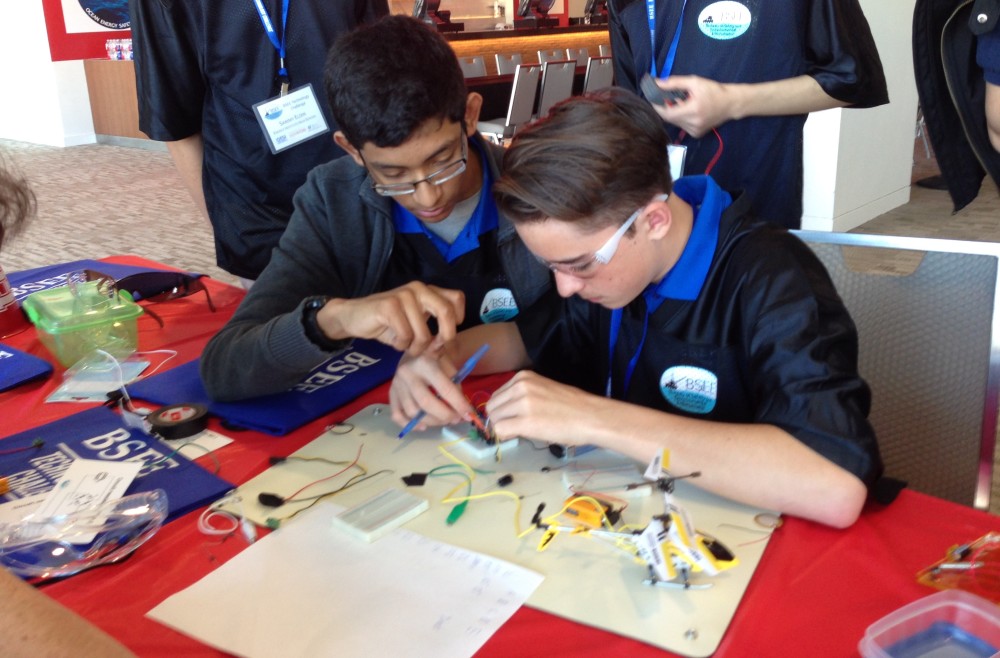 Jose Saravia (left) and Matthew McEwan (right) review the connections of one of the devices they used in the competition.
The University of Houston hosted a technology competition for students from local high schools, which was sponsored by the Bureau of Safety and Environmental Enforcement and the Ocean Energy Safety Institute.
About 120 high school students participated in the first of its kind competition, which took place at UH's TDECU Stadium.
The students learned how an alternative energy called piezoelectricity can be used in offshore exploration. Piezoelectricity is the electric charge that accumulates in certain solid materials, such as crystals, when pressure is applied to them. The students were challenged to generate and store enough energy to fly and land a remote-controlled helicopter on the football field using piezoelectricity.
Sara Garcia, a 10th grader at the Energy Institute High School, said the event could help her decide what kind of job she'd like to pursue.
"I wanna go into an engineering field, but I haven't decided. It's between offshore or alternative energy," Garcia explained.
Ramanan Krishnamoorti, Vice Chancellor for Research and Technology Transfer at the University of Houston, noted there are more than 3,000 companies in Greater Houston associated with offshore technologies, in one way or another, was a plus for hosting the competition.
"That kind of density does not exist anywhere else in the world. These are people who care, this is the future workforce that is gonna come and innovate and make a difference for that industry," Krishnamoorti underlined.
Besides the Energy Institute High School, three schools that participated in the competition: Charles H. Milby High School, Westside High School and the Young Women's Preparatory Academy.
The team 'Underdogs', from Westside High School, won the first prize.