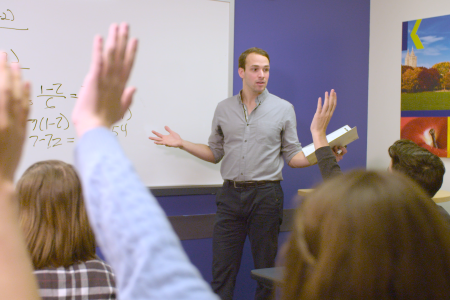 Students prepare for the new SAT.
It's a new world for students applying to college. On March 5th, many are taking a brand new version of the SAT entrance exam for the first time.
The whole idea behind the exam's makeover is to move away from "test preparation" and instead capture what students have actually learned in class.
So all that obscure vocabulary is gone, the essay is optional and there's more algebra and less geometry.
Cyndie Schmeiser is chief of assessment for the College Board, which administers the exam. Here's how she explains the changes.
"The most important of which is the change that focuses the test on the knowledge and the skills that current research tells us are the most essential for college and career readiness and success," Schmeiser said.
To help students perform well, the College Board has also partnered with the Khan Academy to offer free prep tools.
But some students might find the new SAT tougher than the old version. To start, there's more reading – and not just where you'd expect.
"We've seen students really needing to be comfortable with long reading passages, not just in the reading comprehension section, but in the math as well," said Michael Boothroyd, who directs the college admissions programs at Kaplan Test Prep.
He said that the math questions aren't straight numbers. Students have to read the questions, pull out the math from the text and solve it.
"That is a very different experience and students who aren't strong in reading — whether it's because that's just not their strong suite, or perhaps maybe because English is their second language or third language or for whatever reason — may find themselves having to really study in and focus on the math section and understand the role that reading has in that," Boothroyd said.
On the flip side, Boothroyd said that Kaplan also found more graphics and statistics in the reading and writing sections.
The good news for test-takers is that there's no longer a penalty for guessing the answer and getting it wrong.