Listen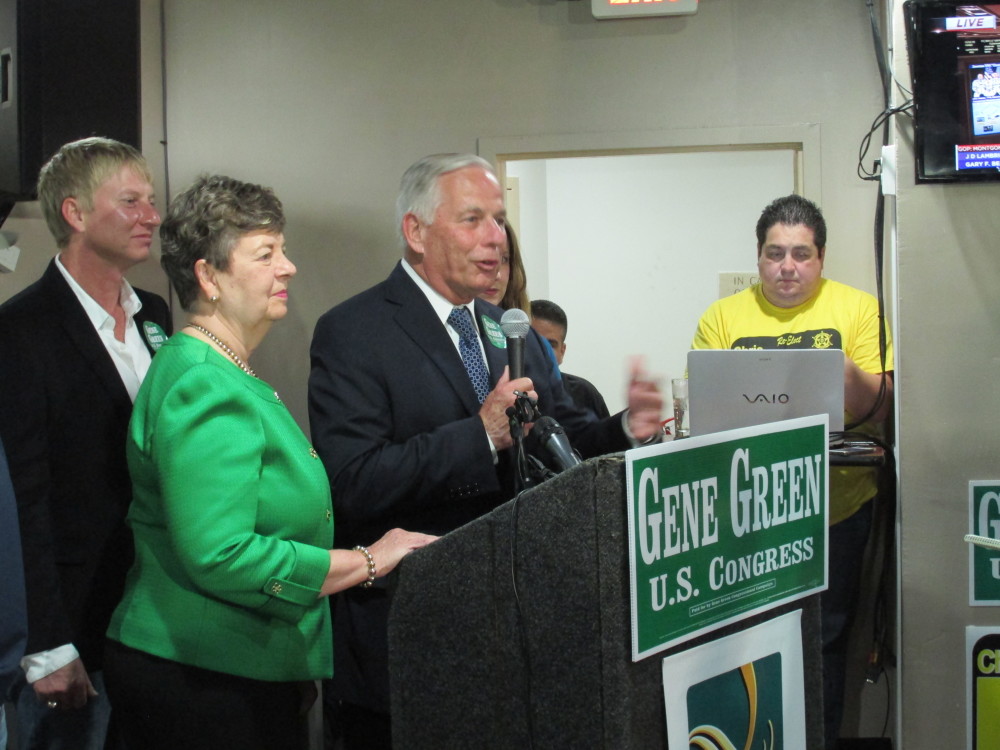 U.S. Rep. Gene Green addresses supporters during his election watch party at the Quality Inn in Pasadena on Super Tuesday.
Former Harris County Sheriff and Houston Mayoral Candidate Adrian Garcia tried to convince the voters of the heavily Hispanic Texas 29th Congressional District to vote for someone like them.
They rejected his campaign as incumbent Gene Green cruised to an easy victory in the primary for the Democrats. Green has served the district — which covers the eastern portion of Greater Houston — since 1992.
At his election watch party at the Quality Inn in Pasadena, Green said he fought hard for his win.
"And I'm just gratified that I have a district that recognizes the hard work we've done over the years, doing a lot of good things in the district," Green said. "Even when I have an opponent who has name ID and high profile."
Johnny Tamayo, a postal worker who attended the watch party, said he expected Green to win because he's accessible, responsive to his constituents and a friend of the Hispanic community.
"So I think he's gained the support of the Hispanic community because of how he has treated the community," Tamayo said.
Garcia tried to become the first Hispanic representative for a district drawn for Hispanic voters.
The loss comes a few months after an unsuccessful run for mayor. Garcia stepped down as Harris County sheriff last May.
In his concession speech, he said it was worth it.
"And so, now, you know, I've always been built to work, to serve. I'm going to rest a little bit and then we'll see what's in the future," Garcia said. "Will this be my last campaign? I doubt it."
He said his campaign against Green was never personal. The congressman disagreed, saying some of Garcia's rhetoric during the campaign was "way over the top" and "not fair."
Green faces Republican Julio Garza in the November general election.