Listen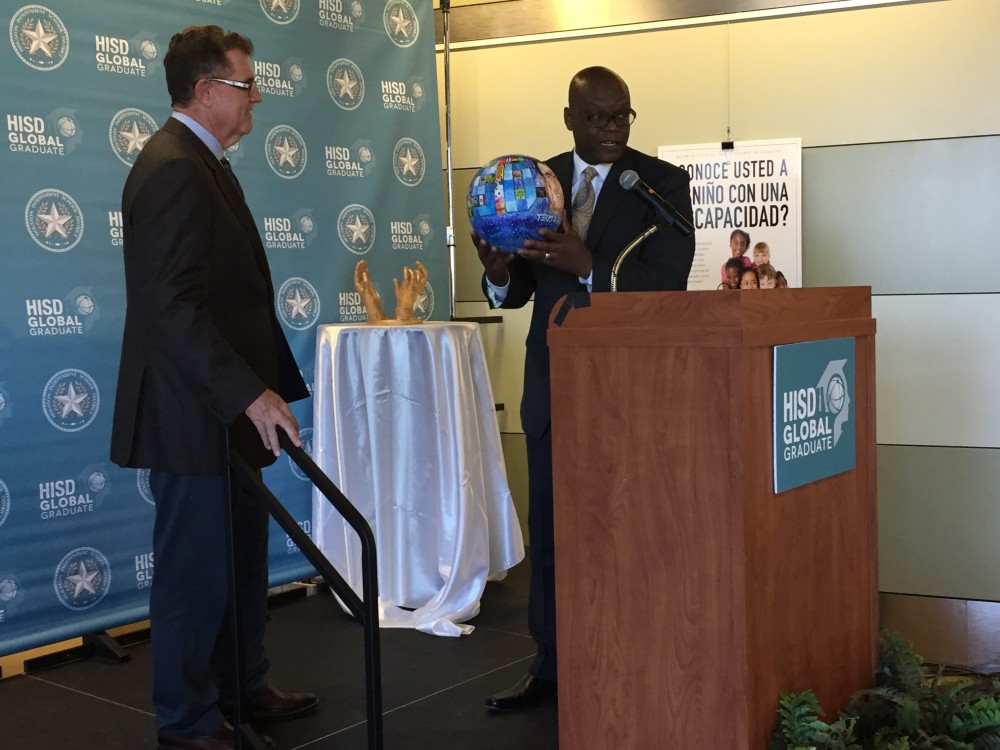 HISD Superintendent Terry Grier received a parting gift, some artwork by students, from HISD's community liaison Lawrence Allen at a goodbye celebration last week.
Last fall, at the start of his seventh year as superintendent of Houston schools, Terry Grier held a surprise press conference. The news: he was resigning and would leave the district before his contract was up in June.
"You can't be school superintendent in Houston forever. Even though you might want to, you just simply can't," Grier told the crowd in the lobby of HISD headquarters.
Now that day has officially arrived. Feb. 29 marked Grier's last day as superintendent and the board has already started to search for his replacement.
Before he stepped down, Grier sat down with News 88.7 Education Reporter Laura Isensee for an exit interview.
Here are some highlights:
On what's next:
"We're not going to stop working and doing things to help children. Do a little consulting, a little writing, a little laying on the beach, a little golf. I've had several opportunities to do foundation work, to work with boards, so we'll make a formal announcement around the first of March."
On where he's headed:
"We're going to be moving. My family is from North Carolina. My dad, he'll be 88 on his birthday, which is this month (February). He is towards the mid- to tail-end of Alzheimer's and my mom is still trying to take care of him. And I have a younger brother there, and I put me reasonably close, an hour, an hour and half to them, so that I can lend a hand, which I need to."
On his proudest accomplishment: "As silly as this may sound to a lot of people, I was very proud the day that the last piece of rolled barbed wire and razor wire came down from the fences that surrounded our schools. That was the norm when I came to work here."
On what he'd do differently: "I would probably have pushed harder and changed more. And that will probably send shock-waves up and down some people's backs and make their hand stand up. Children only have one time in school, and particularly poor children and children of color that are being educated in large pockets of poverty in a big urban city like Houston, they don't need schools to stay the same way they were when their grandparents were in school. And so I would have pushed back much harder against those, particularly some school board members and those in the community, that kept talking a lot about site-based decision-making and decentralization."
On his signature yet controversial program for struggling schools known as Apollo: "I think it was worth every penny and more. And I think the real issue is when you have kids who are dropping out of school and failing, one of the reasons they are is because we've not been fair to those children and their parents in past years and in past generations many times."
On Houston's schools that are still failing to meet state standards: "I don't think it means a lot … but if we were using the same standards today that we were using when we had Apollo, none of those would be failing schools."
Hear an expanded version of this conversation that was featured on Houston Matters March 1, 2016.