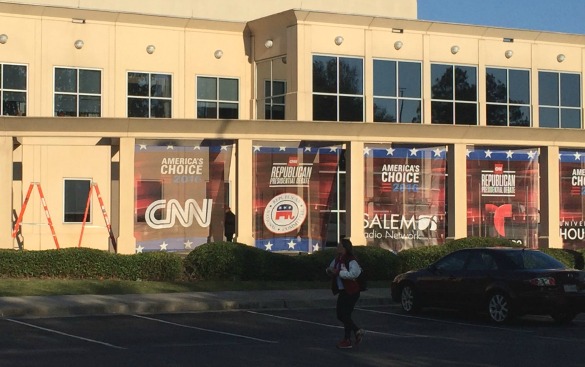 The
2016 presidential race came to Houston
last night (Feb. 25, 2016), as the remaining Republican candidates squared off in a live televised debate on the University of Houston campus. Neurosurgeon Ben Carson, Texas Sen. Ted Cruz, Ohio Gov. John Kasich, Florida Sen. Marco Rubio, and businessman Donald Trump debated immigration, national security, taxes, and the Supreme Court vacancy, among other topics, with a lot of back-and-forth sniping along the way, while onstage at the Moores Opera House at the University of Houston's Moores School of Music.
On this edition of Houston Matters, we discuss what the candidates had to say about the issues — and about each other — and try to drill down to what it all means for Houstonians in advance of the Texas primary on Tuesday. We welcome your thoughts as well, as we talk with Brandon Rottinghaus, Associate Professor of Political Science at the University of Houston, and Jay Aiyer, an Assistant Professor of Political Science at Texas Southern University.
Also this hour: We talk with Forbes writer Christopher Helman about what are known as "zombie" oil companies — those that still trade, but don't have enough assets to invest in growth or pay off debts. Helman noted in a recent article the rise of such companies in Houston, how the oil slump spurred their creation and how these companies are, in turn, impacting the energy industry.
Then: We turn to "non-expert" panelists Fred Goodall, Monica Richart and Vlad Davidiuk to discuss The Good, The Bad and The Ugly of this week's news.
And: We learn how the Writers' League of Texas helps aspiring authors to connect with other writers in Greater Houston. We talk with Writers' League Executive Director Becka Oliver.
Houston Matters offers a free daily, downloadable podcast here, on iTunes, Stitcher and various other podcasting apps.