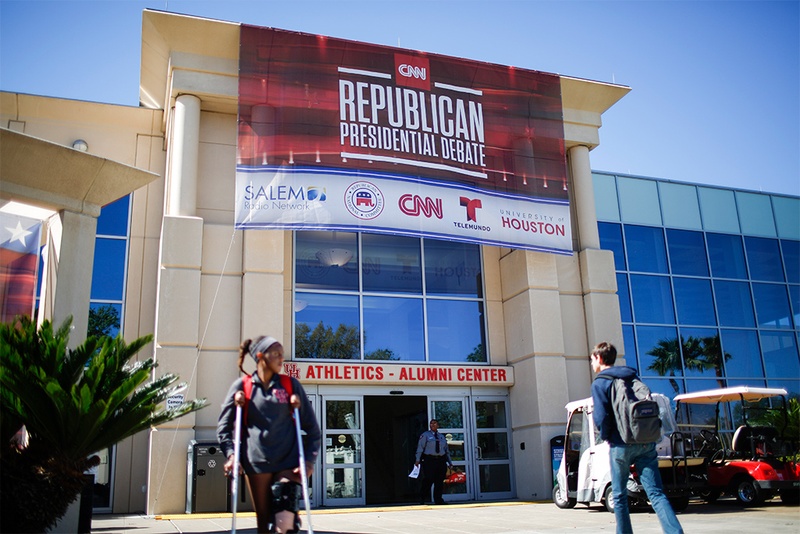 Their school may be hosting Thursday's GOP presidential debate, but University of Houston students have about as much chance of scoring tickets as they do of becoming president themselves.
The university received just 25 tickets to the event, and a portion of those were handed out through a random drawing open to more than 40,000 students, plus faculty and staff. "We knew that tickets will be limited, but '25' was a much lower number than I was ready to hear," said university President Renu Khator in a blog post this week.
But even with limited access, the campus was buzzing on Wednesday. The debate offers a rare chance for students to watch the presidential election process up close, university officials said, and the nationally televised event will help spread the word about UH's recent growth to a national audience.
"This is fantastic," said university spokeswoman P'nina Topham.
It's a big deal for more than just the school. The evening debate, which will be televised on CNN, is one of last chances for remaining candidates to make their pitches to a wide audience prior to Tuesday's primary votes in 11 states. Frontrunner Donald Trump will try to hold on to his lead in nationwide polls. U.S. Sen. Ted Cruz of Texas will try to secure a victory in his home state. And U.S. Sen. Marco Rubio of Florida will try to make the case that he's the only plausible alternative to Trump.
On Wednesday, many students and faculty were less interested in the politics of the moment than the television stars and news media scurrying around campus. CNN was broadcasting from a grassy lawn. Streets were packed with cars, many circling the campus looking for a rare open parking spot.
"We are very happy and excited to bring this national event to campus," said Ravi Birla, an engineering professor who snapped a selfie with his wife and CNN's Wolf Blitzer outside the debate venue Wednesday.
The limited tickets did cause some frustration. The Republican Party controlled ticketing, and much of the space is reserved for the more than 400 accredited members of the media. University officials said interest in the few remaining tickets was overwhelming.
"Even if this event were hosted in the football stadium, there would be greater demand than the tickets available," Topham said.
In an editorial, the student newspaper The Cougar called the debate "the party of the year." But, the paper said, there is one problem: "The party may be in your house, the guests may be parking in your spot, the invitation sent straight to your inbox, but you can't really go in."
But university officials said they were working hard to make the week an exciting experience in other ways. On Tuesday, the university hosted a series of lectures on presidential and electoral politics. It is organizing a debate watch party at its student center.
Meanwhile, several dozen student volunteers had been selected out of hundreds of applicants to help CNN with its television broadcast. Students from the communications department will be live tweeting the event. And a handful of students will stand in as body doubles for the candidates during a mock debate on the stage prior to the main event.
UH senior Hugo Salinas worked a Wednesday volunteer shift that mostly consisted of running errands for the CNN crew. That, he said, was enough of an experience to make any inconvenience worthwhile. During his senior year, Salinas said he has seen the UH football team finish in the top 10, its academic and research accolades grow and now it will host a primetime, nationally televised debate. It doesn't get much better than that, he said.
"Within Texas, we have really had the spotlight shone on us," he said. "Now we will have the national attention."
Disclosure: The University of Houston was a corporate sponsor of the Tribune in 2013. A complete list of Tribune donors and sponsors can be viewed here.
This article originally appeared in The Texas Tribune at http://www.texastribune.org/2016/02/25/university-houston-basks-gop-debate-spotlight/.