Listen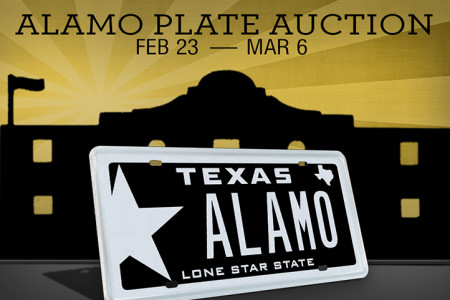 An example of that the "ALAMO" license plate may look like.
The Alamo is a proud, resonant word — evoking both the site of the best-known episode in Texas history, and the rallying spirit that eventually won the Texas Revolution. It is now available as a specialty license plate, and the rights to the plate will be auctioned off between February 23 and March 6 at myplates.com.
The original siege of the Alamo mission took place over those same 13 days in 1836. The auction marks the 180th anniversary.
My Plates is a private company that has a contract with the state of Texas to provide personalized license plates, according to president Steve Farrar.
"It's always bigger in Texas," Farrar said. "So who knows what price it could fetch at the end of the 13 days? It's certainly going to be a 13-day battle that we'll all remember. But all it takes is two serious bidders who are determined to go at it."
In 2011, a bidder paid $11,500 for a plate that says "Cowboys." Two years later, a plate that says "Houston" sold for $25,000.
But that record was blown away in 2013, when a "12thMan" plate sold for $115,000.
The "twelfth man" is an Aggie phrase, and a symbol of steadfast loyalty to the values of Texas A&M.
Farrar says most My Plates customers pay more modest amounts, ranging from $50 to $495, depending on plate design and whether the customer wants it for one, three or five years.
"It really is just having a little bit of fun, adding a little bit of spice and color to your license plate," Farrar said. "Everyone needs to have a license plate. Our view is you might as well get something you want."
Specialty plates have generated $25 million for Texas state coffers over the last five years, Farrar says.
Usually, the My Plates company takes a commission of up to 40 percent on each plate, though Department of Motor Vehicle fees are first subtracted from that amount.
But after the sale of the Alamo plate, the company will donate its portion to the Alamo Endowment, which manages the historic site in San Antonio.