A photo exhibit called
Honoring Olivewood
is on display through May 29 at Houston's
National Museum of Funeral History
. The exhibit chronicles the disrepair of
Olivewood Cemetery
, an historic African-American burial site in a part of town once known as Chaneyville in the Old Sixth Ward.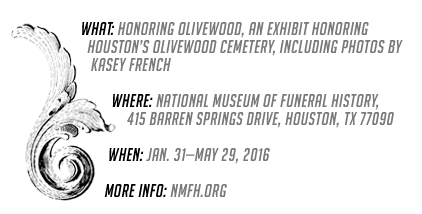 Margott Williams has known for a long time she had relatives buried in Olivewood, which dates back to at least 1875. But it wasn't until her grandmother died in 1999 that she learned the state of disrepair it had fallen into.
"I thought it would be nice for her to be buried by my grandfather," Williams said. "And when we came out here I was just amazed in the city of Houston that a cemetery could look like what this cemetery looked like. It was in really bad condition. The vines were all over the place. You couldn't event tell it was a cemetery from the street."
Hidden in Plain Sight
And you might still not know there's a cemetery back there. The seven-acre plot sits just south of I-10 and White Oak Bayou and is wedged between a neighborhood on the west side and the Studemont Kroger on the east side. And while it's in pretty good shape now, just how bad was it in back in '99? Charles Cook is a volunteer groundskeeper at Olivewood.
"This entire cemetery was a jungle," Cook said. "After the last burials in the 60s, the group kind of went defunct, and they walked away from it. So mother nature took over."
Descendants of Olivewood
In 2004, the cemetery's deplorable conditions prompted Charles Cook and Margott Williams to form Descendants of Olivewood, an organization dedicated to maintaining and preserving the historic site. Since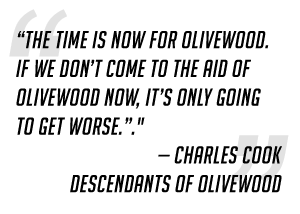 then, volunteers, civic organizations — and even trustees from the Harris County Jail — have pushed back the encroaching brush and vines so families have an easier time finding their loved ones. The group's also raised money for a new fence around the perimeter.
But while the trees and overgrowth have been pushed back to some degree, fully restoring Olivewood is going to take a lot more work.
"And so I think the time is right," Cook said. "You know, the time is now for Olivewood. If we don't come to the aid of Olivewood now, it's only going to get worse."
But, fortunately, there's a collaboration of its supporters trying to make sure its future is safe.
It's hard to imagine some of the grandeur of Olivewood was once overgrown and obscured. Right in the middle of the cemetery's central pathway is a short, stone pedestal on which is seated a smooth stone sphere about the size of a basketball. On one side, the masonic emblem is still barely visible. The monument is the centerpiece of a family plot.
Not too far away is an angel statue, and at her feet sit two carved lions.
Eroding History
But walking farther into the cemetery gradually becomes more challenging — for a couple of reasons. First, there are twisted vines and undergrowth everywhere that Charles is working to cut down. And secondly, the ground starts to slowly — and then fairly steeply fall off toward the bayou. That's because Olivewood Cemetery has been gradually eroding into White Oak Bayou.
"We're looking for a civil engineer or someone to come out and really give us a study on what we need to do [to] eliminate the erosion and the drainage issue," Cook said. "And because it's a cemetery, that's going to be a hard, hard project cause you're working with a historic cemetery."
Margott Williams worries not much will be left of the cemetery if something isn't done soon.
"And, from my understanding, there was a student that did a study from Rice University. If we don't take control of this erosion now, within the next 50 years Olivewood will not be here. It will be gone," she said. "And the next ten years or so, if we don't take control of the erosion, half of the cemetery will be gone. But now, we need a civil engineer and a project manager to tell us what's the next step and to help us achieve that next step."
Raising Awareness
Part of that next step includes making Houstonians aware of a cemetery many don't even know is there. That process started a few summers ago when, as a high school student, Kasey French came to Olivewood with a church group doing volunteer work.
"I remember actually getting off the bus right over here on Court Street and walking up," French said. "And Miss Margott was standing over here with her big shovel, and she was just telling everyone, 'All right, we need to get in there and we need to clean this up right now.' And so I was out here in boots and jeans and a long-sleeve shirt under this type of sun for a few hours, and that's when I caught Olivewood-itis."
"Olivewood-itis" — that's a phrase that comes up around the cemetery's supporters describing when people like Kasey discover Olivewood and become obsessed.
"Whenever I come home from college — if I bring someone home from college — I'll say, 'Hey, let's go to a cemetery,'" French said. "And they're like, 'What?' And I'm like, 'Trust me it's going to be cool. I promise.'"
Kasey eventually combined her fascination with some skills in photography and layout design and began photographing Olivewood. Then, her photos became a traveling exhibit and a book showing the state of the cemetery before it was cleaned up.
Her photos show a gravestone half submerged in water after a heavy rain and headstones pushed askew by twisted tree roots rising beneath them. She wanted people to see the cemetery as it was before the maintenance project began.
Charles Cook says that thanks to people like Kasey he feels — as he put it — the future's got his back.
"We need ambassadors. We need young people," he said. "So, I'm inspired by you because — out of all the crazy stuff that we see every day and we hear — kind of keeps me grounded when I bump into people like her. We're going to be OK. We think we're in bad shape, but we're going to be all right. Because we're going to be passing it on to people like her that really cares — that really cares from the heart."
MORE:
New Photography Exhibit Honors Forgotten African-American Cemetery (News 88.7, Feb. 16, 2016)
Honoring Olivewood Exhibit (NMFH)