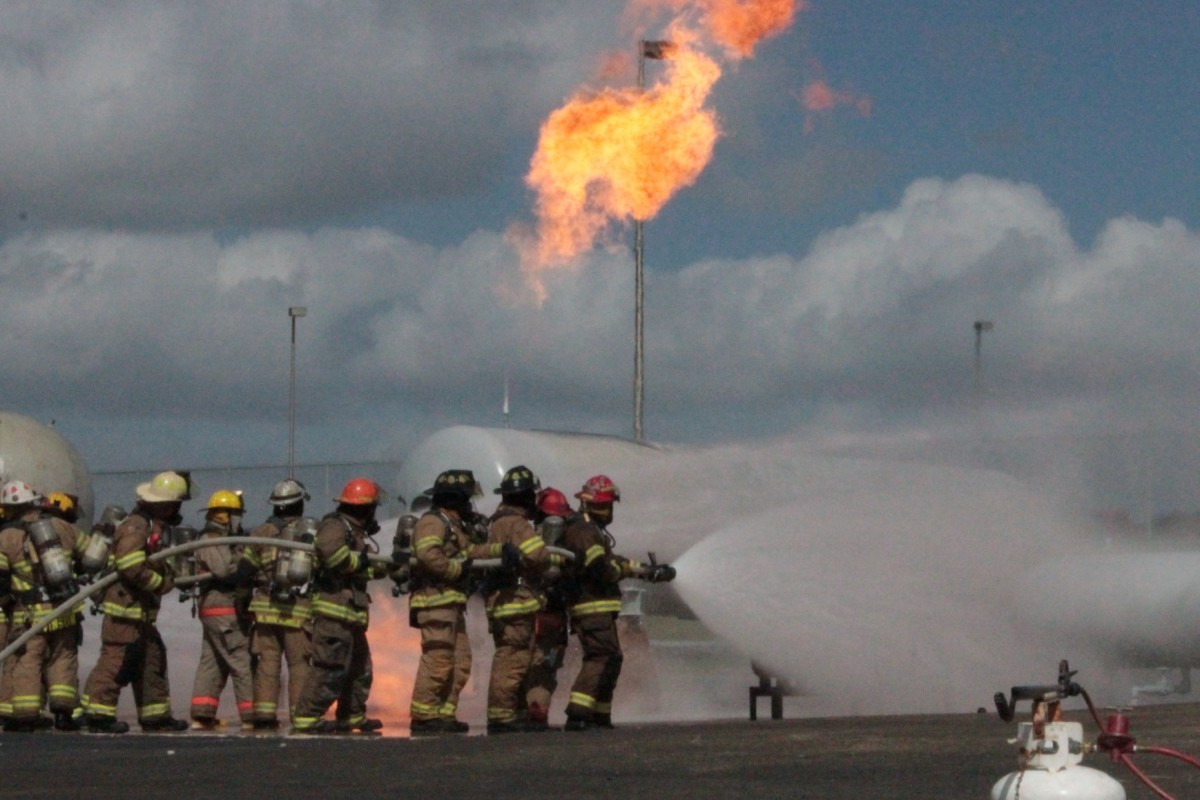 On April 17th 2013 in the town of West, a farm supply building caught fire just before sundown. Volunteer firefighters rushed to the scene, some in their own cars. Ten of them would die when tons of chemical fertilizer exploded. (The blast killed a total of 12 emergency responders as well as 3 members of the public and injured 260 people.)
Days later at a memorial service, then-governor Rick Perry said, "We will never forget what happened here."
What many of the firefighters' families did not want forgotten was that before they gave their lives fighting a fire, the volunteers had given their own money and time for years.
Tony Kubacak, the brother in law of volunteer Cody Dragoo, spoke at the memorial service in 2013. "Cody dedicated a lot of his time," Dragoo said, "including helping organize barbecues and tractor pulls to raise money for the fire department.
Joe Pustejovsky, in a video for the National Fallen Firefighter Foundation, said his son Joey had attended fire training classes at Texas A&M just weeks before his death.
"He encouraged all his other brother firefighters to go seek that further education," said Pustejovsky.
In the months and years since the West explosion, what began emerging was just how much Texas relies on volunteers but how little is done to help them get training; training that can mean the difference between life and death.
"I don't think many of my colleagues or myself realized that the majority of firefighters in the state of Texas are volunteer," said state Rep. Joe Pickett, a Democrat from El Paso.
Pickett's legislative committee found that 78 percent of the state is protected by volunteer firefighters. He pushed for changes.
"I think we're doing better. I don't think we're there yet," Pickett told Houston Public Media.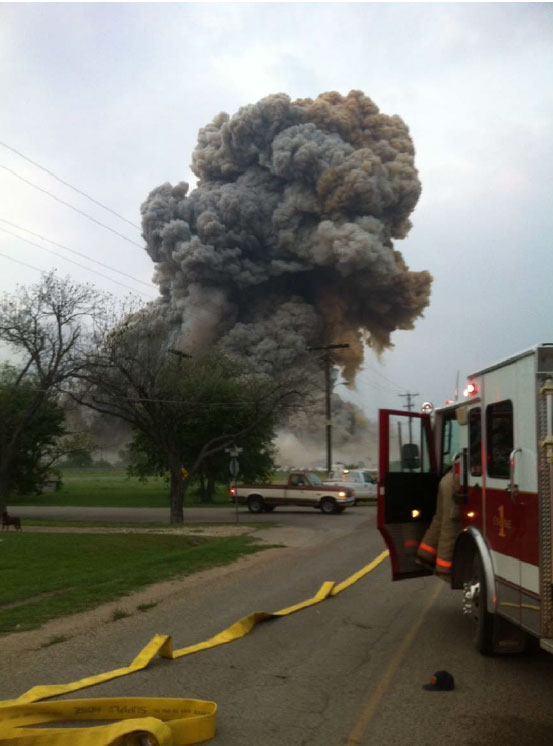 One of the most glaring issues exposed by the West tragedy was the lack of training. The U.S. Chemical Safety Board found that only a few of the firefighters responding to the West fire had any training for chemical accidents.
"If they did training it was on their own time. They did a lot of fundraising around town to maintain their equipment and took time off from other activities to do the training that they did," said Johnnie Banks, CSB's lead investigator for the West explosion.
More generally, the CSB found that many volunteer departments are so strapped for funds that when they get grant money from the government or foundations, it often goes for equipment.
"Vehicles, equipment, things like that and very smaller portion of that is specific to training," CSB investigator Reepa Shroff told Houston Public Media.
The CSB report said the volunteers in West were "victims" of a lack of training.
In another report, the Texas Fire Marshal pointed out that Texas has no minimum standards for volunteer training.
We found one state with a different approach. A decade ago, California mandated that volunteer firefighters have to have the same safety training as career, paid firefighters.
In Texas, Rep. Pickett said having a statewide training standard would be fairly easy to set-up but might be hard to get approved by lawmakers if it required additional funding. That said, the legislature did double the amount of money for assistance to rural volunteer departments to $24 million a year beginning in 2015.
But the need is far greater according to the Texas A&M Forest Service which manages the money. In an email to Houston Public Media, Jason Keiningham with the Forest Service wrote:
"The program provides $24.3 million in grants annually, as high as it's ever been. The demand is strong in that there are over $160 million in outstanding grant requests for equipment. Training is considered a top priority, thus applications for training tuition assistance are approved on demand. In fact, a reserve is set aside each fiscal year to ensure funding is available to meet demand for Training Tuition grants."
Several state agencies including the Texas Commission on Environmental Quality are working on grants to increase the funding, according to Rep. Pickett.
"Do we have enough? No. Have we gotten better? Yes," Pickett said.
At the Firefighters' and Fire Marshals' Association of Texas, director Chris Barron said that the way things are right now, a volunteer wanting to take firefighting classes might get some help paying tuition.
"But it doesn't provide for the $500 to $800 cost in travel and, of course, the volunteers time, getting to the training and them having to take off their personal vacation to get to those type of events," Barron said.
Below is information provided by the Texas A&M Forest Service:
Available Grant Funding (Historical) – Rural VFD Assistance Program (HB 2604) – Training & Equipment
| | |
| --- | --- |
| Fiscal Year | Amount Available for Grants |
| 2011 | $7,000,000 |
| 2012 | $7,000,000 |
| 2013 | $12,800,000 |
| 2014 | $12,800,000 |
| 2015 | $24,300,000 |
| Total | $63,900,000 |
Training Tuition Grant Awards – All (FY 2011-2015)
| | | | |
| --- | --- | --- | --- |
| Fiscal Year | Total Dollar | # of Departments | # of Firefighters |
| FY 2011 | $1,447,065.03 | 1,446 | 5300 |
| FY 2012 | $1,560,091.75 | 1,600 | 5933 |
| FY 2013 | $1,686,850.16 | 1,655 | 6,613 |
| FY 2014 | $1,621,744.96 | 1,645 | 5,668 |
| FY 2015 | $1,436,983.20 | 1,296 | 4,251 |
| Total | $7,752,735.10 | 7,642 | 27,765 |
Training Tuition Grants Awards – Hazardous Materials Related (FY2014 – FY2015)
| | | |
| --- | --- | --- |
| # of Departments | # of Firefighters | # of Courses |
| 125 | 329 | 31 |
Meals and Lodging
With one exception, TFS grants do not cover meals and lodging unless they are included in the base tuition. For local and some regional training courses, overnight lodging should not be an issue. For firefighters attending the TEEX Municipal Fire School, there are dorm rooms and meal plans available (for a fee) that can be paid by TFS using federal volunteer fire assistance funds. The TEEX Municipal Fire School is a flagship offering put on by TEEX and hosted at the Brayton Fire Training Field in College Station. A wide array of courses are offered to allow firefighters to improve upon and/or learn new skills. It attracts firefighters from all corners of the state. SFFMA also provides some grants to help fire departments with meal and lodging expenses for training classes.
Statewide Survey
In 2014, TFS field staff conducted a statewide survey of fire departments. 1,869 fire departments were surveyed (including 1,424 volunteer fire departments, 289 combination and 160 fully-paid career fire departments).
The survey included the following on training:
Training
88% of departments do in house training (approximately 34 hours per month)
65% participate in regional training (approximately 5 students per year)
50% participate in state schools (approximately 2 students per year)
30% participate in the TCFP certification program
68% participate in SFFMA certification program
22% of departments do not report participation in either certification program (TCFP or SFFMA)
Training Needs by Priority
Basic Wildland Firefighting
Basic Structural Firefighting
Advanced Wildland Firefighting
Advanced Structural Firefighting
Wildland Fire Behavior
Urban Wildland Interface
Safety & PPE
ICS
First Aid for First Responders
Officer Development
SCBAs
Hazardous Materials
Water Delivery
Pump Operations & Maintenance
ISO
Search & Rescue Operations
Fire Department Organization &
Fire Prevention