Listen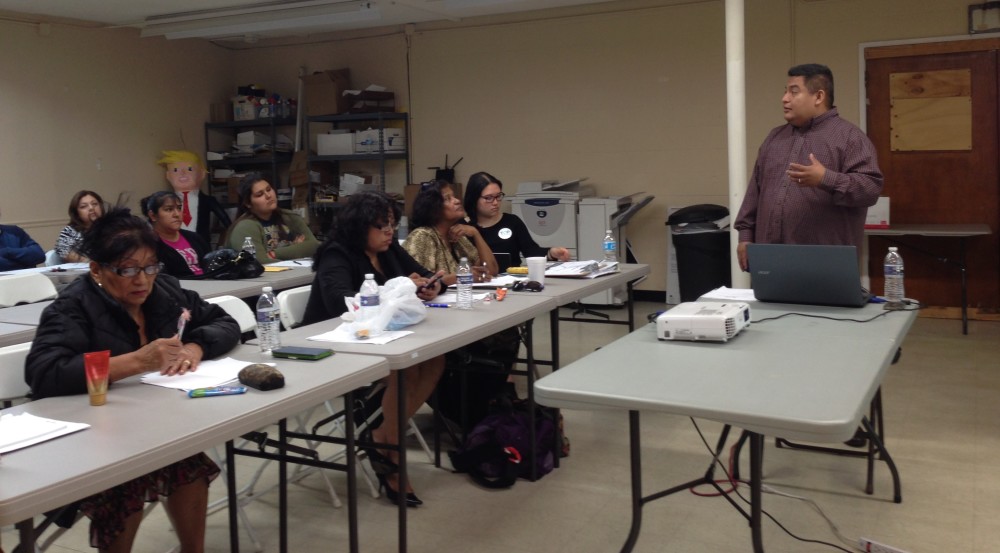 Texas Organizing Project's Alain Cisneros (right) tells workshop participants about the deferred action programs, which are commonly known by the acronyms DACA and DAPA and would temporarily stop the potential deportation of undocumented immigrants who meet certain criteria established by the federal government.
In the coming months, the U.S. Supreme Court will review President Obama's programs to temporarily stop the deportation of certain undocumented immigrants.
The initiatives are called deferred action programs and are commonly known by the acronyms DACA and DAPA. DACA stands for Deferred Action for Childhood Arrivals and DAPA stands for Deferred Action for Parental Accountability.
Texas is one of the states with the highest number of undocumented immigrants who could have their deportations put on hold.
Data compiled by the Migration Policy Institute indicate there may be more than 700,000 in our state.
Hoping the high court will uphold the programs, the Texas Organizing Project, TOP, is holding workshops in Houston to help undocumented immigrants and their beneficiaries to learn more about the petition process.
TOP members are visiting neighborhoods located in specific areas of Houston, such as the southwest, to find those who could potentially benefit from DACA and DAPA.
"I am finding many, many families that qualify for DAPA, parents who came to the U.S. 20, 30 years ago," says Constance Luo, a community organizer with TOP.
TOP held the first workshop of this month on February 6th in its Midtown Houston office.
One of the participants in the workshop was a 37 year-old man from Veracruz, Mexico, who has lived in Houston for the past 18 years.
He has three children that were born in the U.S. He may be eligible for DAPA.
He didn't want to use his real name for this story because he is afraid of being targeted by immigration authorities. Therefore, we agreed to call him Juan.
Juan explains that DAPA would change his life, because things as ordinary as driving a car or going out with family and friends are risky to him.
The fear of being detained and deported is always present.
"Right now, those are my fears, being detained for X reason and — obtaining some benefit through DAPA — automatically for me in that sense my life would change a lot," Juan told us.
The participants asked questions to immigration lawyer Mary Jimenez during the final part of the workshop.
Jimenez notes she feels the "anxiety" these people are experiencing, because a lot of them "associate the program with President Obama."
Although the federal government hasn't been able to implement DACA and DAPA so far, because of the lawsuit filed by Texas in December of 2014, they are worried about what would happen with the programs when President Obama is no longer in office.
That lawsuit was initiated by then Texas Attorney General and current Governor Greg Abbott.
One of the arguments made by Abbott is that DACA and DAPA would be a burden to the state due to — among other things — the cost of granting driver licenses to those who benefited from the programs.
It is expected the Supreme Court will deliver a ruling in May or June.