Listen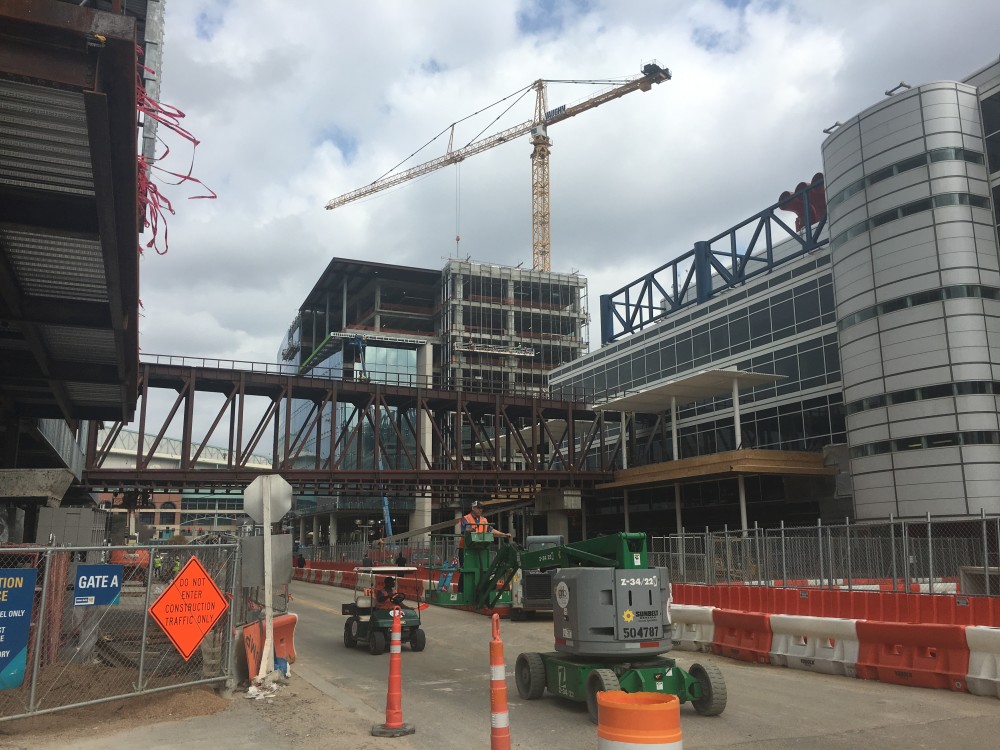 Partnership Tower, under construction next to the George R. Brown Convention Center. The Greater Houston Partnership's new home will open in July and is part of the Convention District's expansion.
Houston First Corporation locked in 732,967 hotel room nights tied to conventions and meetings last year. That's up 29 percent from 2014 and a new record for the city.
The bulk of the increase in reservations came from conventions tied to STEM (science, technology, engineering, and math) industries, as well as medicine and education. Major bookings included events for Microsoft and the Anita Borg Institute, as well as a five-year contract to host the FIRST Robotics competition.
Houston First manages the George R. Brown Convention Center for the City of Houston. Twenty-fifteen marked the first full year, though, in which it has also run the Greater Houston Convention and Visitors Bureau.
"Because of the alignment with Houston First, we were given access to resources that, candidly, the Greater Houston Convention and Visitors Bureau did not have access to," says bureau president Mike Waterman.
Those resources include being able to book space in the George R. Brown directly for convention organizers.
"That," Waterman says, plus, "what we call the expansion of what we call the Convention District with the addition of the 1,000-room Marriott Marquis that's going to open this October, and the $175 million renovation [of the George R. Brown], which will also open in October, those things led to this almost 30 percent increase."
Waterman puts the economic impact of those hotel bookings on the city at roughly $500 million in 2015. That's up 38 percent from a year earlier.