Listen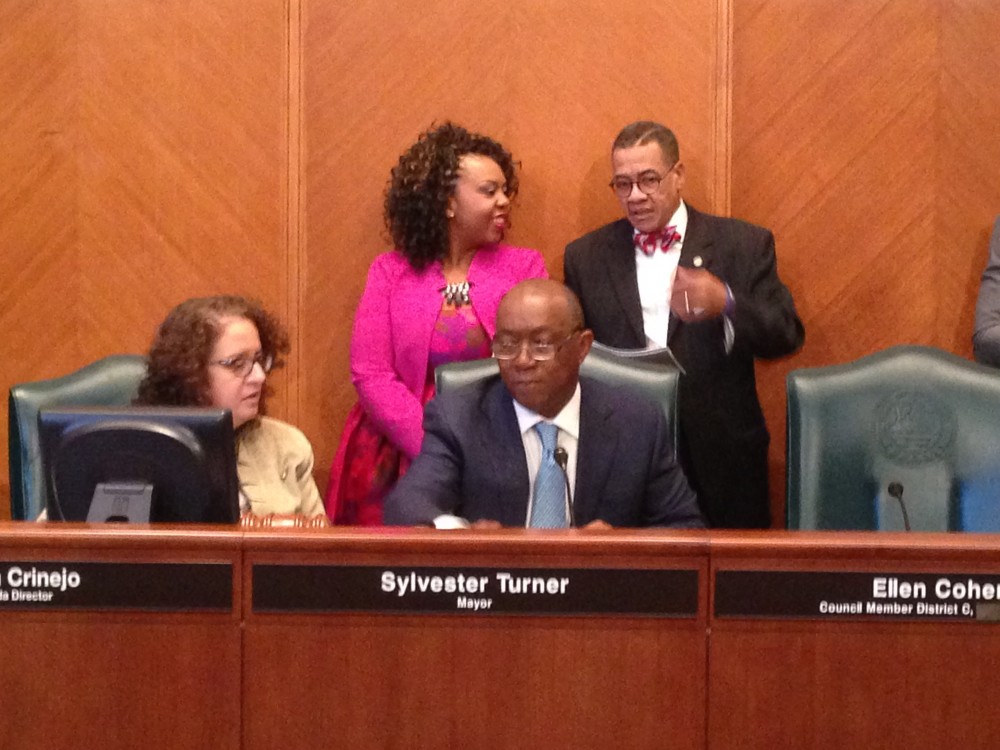 Houston's new Mayor Sylvester Turner presided over the City Council meeting for the first time on Monday. (Photo: Al Ortiz)
About 3,000 people attended Sylvester Turner's inauguration as Houston's new mayor on Monday.
Our city's diversity was clearly shown with residents of all races and ages gathering at Jones Hall.
Several of them, like Michael Bagstad, consider Sylvester Turner's vast experience in the Texas Legislature an advantage.
"I think he'll hit the ground running. He knows how politics works. He's lived in the City of Houston, you know, all his life so it's a big plus, a big plus," said Bagstad.
Making the city's infrastructure better –especially by fixing potholes and improving drainage– was also a recurring wish among the audience.
Houston resident Brianna Mills likes those ideas.
"Honestly, for me it's the upkeep of the streets of Houston. I think it's kind of difficult when you are trying to get to work in the traffic and there's always construction. I think the upkeep of the actual city needs to be improved," noted Mills.
Shortly after being sworn into office as Mayor, Turner presided over his first City Council meeting and he addressed his first challenge.
What was expected to be mostly a ceremonial session became somewhat contentious when Council Member Michael Kubosh said he wanted to delay the appointment of Council Member Ellen Cohen as mayor pro tem.
"We are not just supposed to go along to get along and to agree with what is brought before us. We don't need to be intimidated by our willingness to stand up and to vote how we feel," Kubosh told Turner.
Ultimately, the Houston City Council approved Cohen's appointment and Councilman Jerry Davis was appointed vice mayor pro tem and, in his closing remarks at the meeting, Turner struck a conciliatory tone by acknowledging that "everyone will have various viewpoints and that's OK."
"That is a part of the process and certainly I expect that you will represent your districts and represent the people as a whole," he added.
After the council session, Turner held his first press conference as mayor and talked about some of his goals.
He reiterated his promise to develop a plan to repair potholes within 24 hours of being reported to the city and also set passing a balanced budget in June as a main objective.
Turner's First Press Conference As Mayor of Houston

The Mayor takes questions from members of the press.