Listen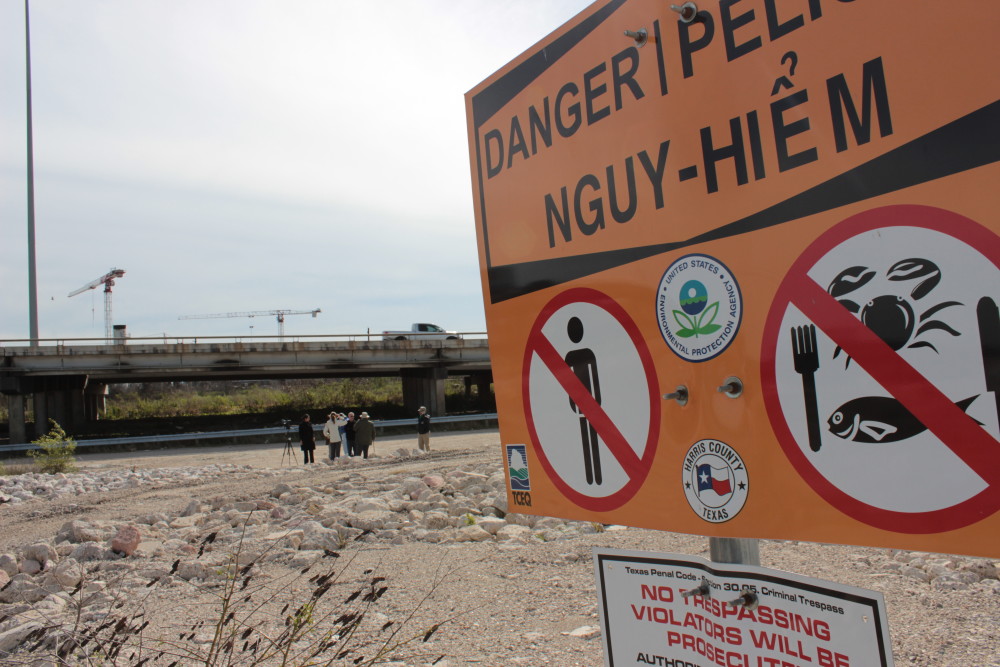 Back in 2013, Harris County officials visit the dioxin-contaminated site along San Jacinto River, east of Houston.
There's a new problem at the waste pits along the San Jacinto River, east of Houston.
Divers recently found a hole in the cap that's supposed to keep toxic waste that a nearby paper mill produced in the 1960s from further contaminating the water as had happened in the 1970s and '80s.
But there is still much to be learned about the breach and its consequences.
A team of divers working for the Environmental Protection Agency discovered the hole almost two weeks ago at the Superfund site along I-10, just west of Crosby-Lynchburg Road.
This comes as no surprise to advocates of the river.
"We knew that the cap would not withstand the natural forces on the upper Gulf Coast," says Jackie Young with the San Jacinto River Coalition.
The group has pushed for the waste to be removed, instead of contained.
She says the dive operation that revealed the breach in the cap came after the coalition and others asked the EPA to look into what had been happening in the months following the Memorial Day floods.
"Residents nearby the site were literally losing 10 to 20 feet of riverfront property due to the erosive forces of the floodwaters, and we did not feel comfortable that the site was still intact," Young said.
There is now a hole 20 feet wide by 10 feet deep.
Young says no one knows yet what caused it or how long it's been there.
The EPA still has to determine how much of the cancer-causing paper mill waste might have escaped. It's now up to the companies responsible for containing the toxins to submit a repair plan.