Listen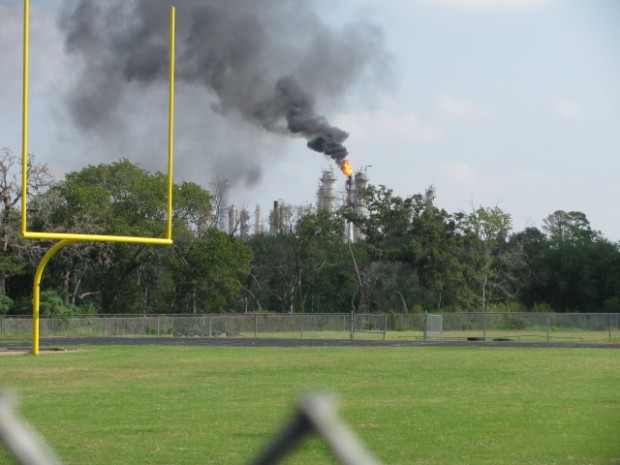 Flare burns at petrochemical plant on Houston's east side
Over the past decade, Houston's air has gotten less and less smoggy as the refining and petrochemical industry reduced emissions and car engines ran cleaner. But suddenly, it appears the smog may be back.
"What was surprising was that smog levels are up," says Ilan Levin, an attorney in Austin with the Environmental Integrity Project.
Levin tells Houston Public Media that his group, along with Air Alliance Houston, used data from the state and from an analysis done by independent researchers in Houston. He says they found that levels of ozone —- or smog — were as high in downtown Houston and in the Aldine area in 2015 as they were a decade ago.
Smog can travel in plumes depending on which way the wind blows. Researchers at Rice University found a correlation between air pollution and health problems in Houston neighborhoods.
"It's important to remember that smog is still a big problem in Houston and we're not out of the woods," says Levin.
Levin says the ozone levels they found mean Houston is continuing to violate the old federal ozone standard and will far exceed a new, stricter one just issued by the U.S. Environmental Protection Agency.
The Texas Commission on Environmental Quality confirmed that this year's highest ozone days were some of the worst in years. But a spokesperson said overall, there were fewer high-ozone days in 2015 than in 2007, despite a big increase in the area's population.
"Overall air quality in Houston is better today than it was in 2007," wrote TCEQ spokesman Terry Clawson in an email. "The number of days exceeding the ozone standard is less in 2015 (29) than in 2007 (41 days)."
What could be creating more smog? Possibly the huge surge in oil and natural gas being piped, stored and processed by Houston-area refineries and petrochemical plants. Add to that the exhaust from gasoline and diesel engines as more vehicles hit the roads and more equipment was used on construction sites as the local economy and population expanded.