Academic medical institutions often struggle to "translate" basic research findings into actual drugs, devices and diagnostic tests, according to MD Anderson president Dr. Ron DePinho.
"In academia, we're very good at discovering, but we're less good at doing," he said.
Many intermediate steps – known as "translational research" – are required to move promising ideas out of the laboratory and into clinical trials. They are frequently tedious and costly.
"The kinds of things that we're doing, there are no grants we that can apply for," DePinho explained. "There really is this blind spot with respect to funding."
The "Moon Shots" program aims to fill that gap. Since the launch in 2012, MD Anderson has raised almost $300 million for the program. Eight cancers received initial grants.
This year, six new cancers were added to Moon Shots, including some of the most difficult to treat cancers, such as the brain cancer glioblastoma and cancer of the pancreas.
Pancreatic cancer researchers at MD Anderson received more than $2 million from the program, and also got access to data-crunching tools and in-house experts in clinical trials, immunology and other specialties.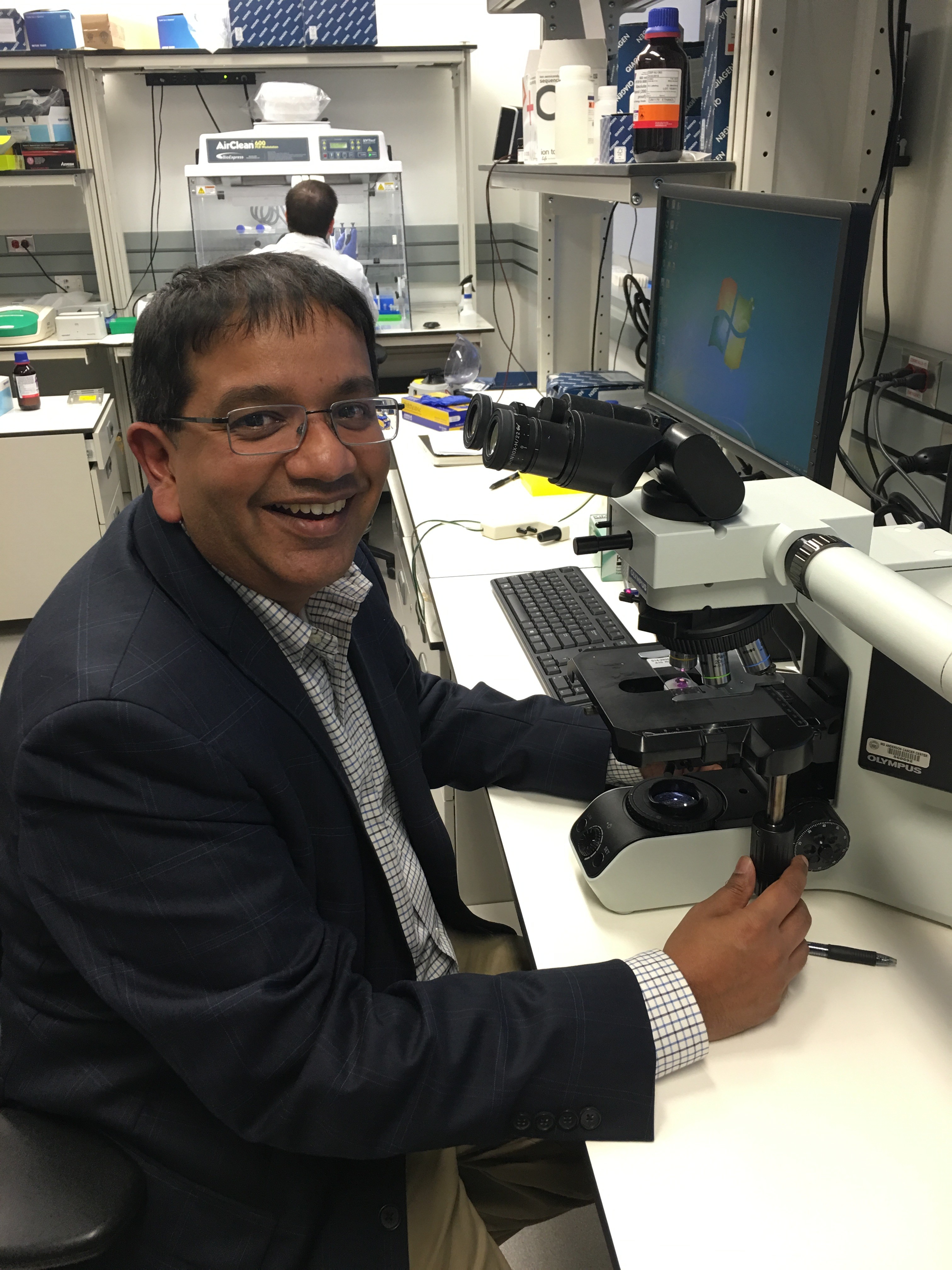 Dr. Anirban Maitra runs the pancreatic lab at MD Anderson. He said the support from Moon Shots is wonderful, because although pancreatic cancer is the most deadly cancer, it's also pretty rare compared to lung or breast cancers.
"It allows us to really think of out-of–the-box ideas," Maitra said. "Take chances on things that you wouldn't normally do."
One of those ideas is to block a mutant gene, Kras, found in more than 90 percent of pancreatic cancers. But to block that gene will require using exosomes, nanoparticles secreted by cells. Maitra believes exosomes could become a new kind of "biological delivery system."
The Moon Shots program is helping Cancer Biology Chair Raghu Kalluri's team work out the best methods for using exosomes to target Kras.
"For this delivery system, we're funding GMP, or good manufacturing practices, of synthesis of this delivery system. (It) requires 17-20 tests that you need to do. So that when you go to the FDA with that fat folder and say 'Here, we want to give this to patients,' you need to show all of that data."
Those manufacturing tests are an example of the translational research that Moon Shots was created to support, Maitra said.
"That's the kind of stuff that is very hard for the NIH to fund because it's not discovery or hypothesis-based science," he said. "But it's the stuff you need to do, if you want to not stop at the paper but actually take this to patients."
President DePinho also emphasized this strict criteron: any research funded by Moon Shots must ultimately benefit patients and extend life.
As a stark example, he pointed to cancer biomarkers – bits of protein, DNA or other abnormal molecules that circulate in a person's blood and indicate that a cancer may possibly be present. The promise of biomarkers is that they can help doctors diagnose cancers earlier, when treatment has a better chance of working.
"Currently in cancer there are over 8,000 biomarkers in the [scientific] literature," DePinho said. "There are only two in clinical practice."
(Those two biomarkers are for ovarian cancer and prostate cancer, but even those are imperfect tools, and need improvements.)
"You want to make sure that you don't just have many biomarkers of early detection, but those biomarkers have to be converted into diagnostics that can be used in millions of patients," DePinho said.
In a small room in the pancreatic cancer laboratory, a machine the size of a large microwave sits on the counter. It's a digital PCR machine – PCR stands for polymerase chain reaction. It can look for tiny bits of DNA in a sample of patient blood.
"So imagine a needle in a haystack, and you're looking for that one needle that tells you 'Ah-hah, there's something abnormal in this patient's pancreas,'" Maitra said.
That's another goal of Moon Shots – to analyze the genome of the cancer in every patient, and, when possible, use that knowledge to track the progress of treatment and adjust it as needed.
But that's not all. Moon Shots researchers want to capture the details of every patient's tumor, track the outcome of their treatments, and compare the results to thousands of other patients.
According to DePinho, the future of cancer research depends on connecting those dots.
"We have two different universes: There's the clinical data universe where all the patient information is. And then we have a research universe where data is stored, let's say genomic information or immune profiling and things of that nature," he explained.
"And yet those kind of data are not integrated."
But they will be, DePinho promised. Moon Shots is funding a massive database at MD Anderson to bring the two data "universes" together.