Listen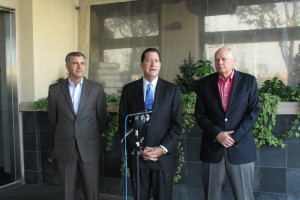 Attorney Andy Taylor (center) discusses the attorney general's opinion on Metro's participation in Uptown BRT project.
Construction continues on the Post Oak Bus Rapid Transit line in the Galleria-area, which will use designated bus lanes to transport riders along the West Loop corridor.
But critics seeking to stop the project say they are encouraged by an opinion from the Texas Attorney General on whether Metro is acting illegally by operating that system.
They say when voters approved a 2003 bond referendum, Metro was supposed to use the money to build light rail along Post Oak. And according to the attorney general's opinion, Metro was specific in its request.
Attorney Andy Taylor says the opinion backs up their arguments as they continue fighting the project, which may include filing a lawsuit.
"In the state court system we are bound and determined, and ready, willing, and able to go all the way to the Texas Supreme Court," Taylor says.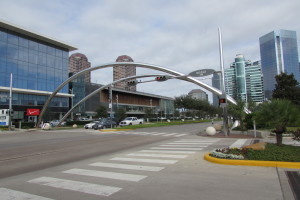 But the attorney general goes on to say there are certain questions that can't be answered in the scope of an opinion, such as whether Metro specifically violated its contract with voters. John Breeding with the Uptown Management District also points out that Metro was dismissed from a lawsuit filed by property owners that also challenged the project.
"I don't think either of those give those that are attempting to stop the project very much momentum," Breeding says.
Those rapid transit buses are expected to start running in late 2018.