Listen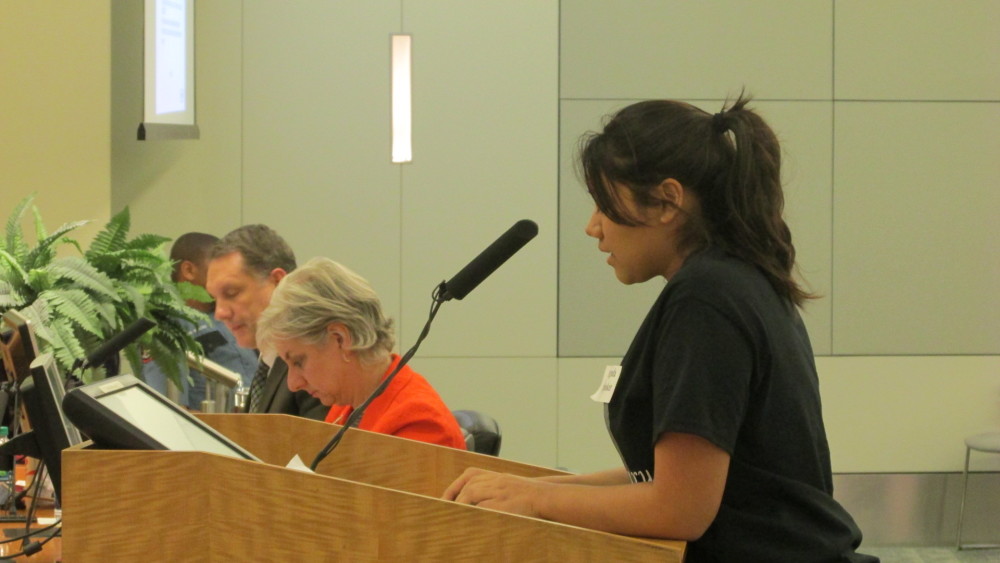 Davis senior Ailyn Gonzalez told the HISD board of trustees her school needs a new campus.
The board of trustees for the Houston Independent School District approved Thursday more than $200 million in extra funding to cover a budget hole for school construction.
The first thing that will continue is more school construction.
Trustee Manuel Rodriguez presented a video of the latest work at Milby High School in east Houston.
"The first wall was erected and now we have the start of the new Milby … and new traditions," Rodriguez said.
A total of 40 schools will get a new campus or some renovation. Voters approved almost $2 billion worth of work in 2012.
HISD deputy superintendent Ken Huewitt said that they'll only use the extra $212 million in funding if needed.
"These dollars will help us get back to what we thought we could build in 2012," Huewitt told the board Thursday.
Some students said that the extra money is absolutely needed.
"Roach infestation, rats, ants everywhere. Crumbling ceiling tiles, leaks, loud air conditioners plague the school, " said Era Boone, a senior at Davis High School.
"The sad thing is that we have come to think of all these problems as normal, things that we have to deal with to go to school."
The other step for the bond program is an external audit from KPMG. It will examine the management and why it's facing increased costs. The audit results are expected next March.