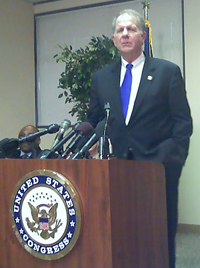 A group of another nine Syrian refugees is scheduled to arrive in Houston this week as the debate on how to resettle them continues.
The refugees who are relocating in Houston are a family of eight, including six children, and a 26 year-old woman whose mother lives in the Houston area.
Meanwhile, Texas Attorney General Ken Paxton is going forward with the lawsuit he filed last week.
His main argument is the federal government and the group that is relocating the refugees are not complying with the Refugee Act of 1980.
South Texas College of Law professor Charles 'Rocky' Rhodes thinks differently. "So far, when I looked at the states' pleadings, there's just no evidence that they have any violations of the Refugee Act of 1980."
In Washington, D.C., Sen. Ted Cruz filed the State Refugee Security Act and Congressman Ted Poe introduced a companion bill in the House of Representatives. Poe, represents the 2nd Congressional District of Texas in the House.
Cruz's and Poe's bills would allow a state to reject refugees if it considers they can be a security risk.
Sen. John Cornyn, also from Texas – same as Cruz and Poe –, said he hadn't had a chance to review Cruz's bill but noted he agrees "with the concern about hitting the pause button on the Syrian resettlement program until we re-examine our vetting practices."
It's unclear how much support the bills have in Congress.