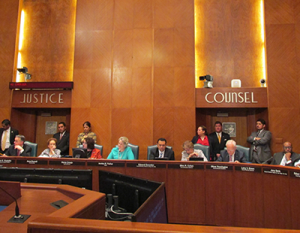 The Houston City Council unanimously voted to create a Tax Increment Reinvestment Zone, commonly known as TIRZ, for the Montrose area.
The funds the TIRZ will generate will mostly help Montrose repair and enhance its infrastructure.
Some potential projects include new sidewalks and repairs to the drainage system.
For Mayor Annise Parker, the measure passed by the council is one that can make a difference.
"If these TIRZs weren't in existence, half the CIP would disappear. So, it is a way to do capital projects, much needed capital projects," said Parker, during her usual press conference after council meetings.
The CIP is the Capital Improvement Plan, which to a great extent determines the City's priorities in terms of infrastructure.
Montrose is located in District C, which Ellen Cohen represents in City Hall.
Cohen says the TIRZ should also help the neighborhood enhance transportation and parking options.
Town hall meetings to discuss the Montrose TIRZ have been held recently.
Some residents expressed support for the idea, but others voiced concerns about the governing board, which the city will appoint.