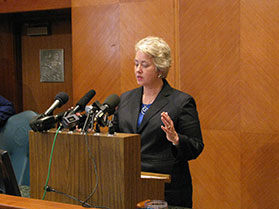 Houston's City Council passed this week an ordinance that aims to help police officers identify and investigate massage establishments, specifically, those that may be a front for prostitution.
The ordinance passed by city council expands the legal definition of a massage establishment.
The change will allow the Houston Police Department (HPD) to execute inspections more easily because its officers will be able to investigate both licensed and unlicensed facilities.
Until now, the police department had a hard time investigating the unlicensed establishments, unless they sent undercover officers.
"When we have vice going undercover what they are doing is making a case against the woman for prostitution and that's not what we want, especially if they are a victim of human trafficking," explained Minal Patel Davis, special advisor to the mayor on human trafficking.
Patel Davis also explained many of these establishments promote their business on the Internet.
And Mayor Annise Parker thinks they shouldn't be that hard to find.
"A lot of these illicit establishments advertise in certain publications and, so, they're hiding in plain sight. And, if they're gonna do that, we do have the ability to use our regulatory process," she said.
The change approved by the city council will also make it easier for police officers to obtain search warrants from municipal judges if they are investigating violations of the city code.