There will soon be no more slowing and stopping at the Houston Ship Channel Toll Plaza. And everyone will soon have to start using an EZ TAG.
Lawanda Howse is the Assistant Director of the Harris County Toll Road Authority (HCTRA). She says one of the reasons for the change is safety. The bridge handles a lot of truck traffic and Howse says sometimes a driver simply isn't paying attention.
"They may hit a curb or they may hit the booth," Howse said. "And we have toll collectors in those booths."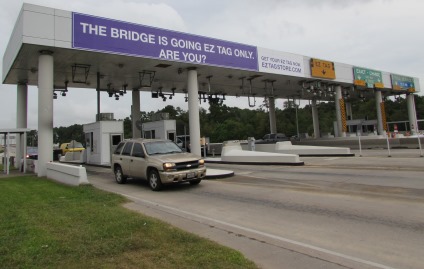 Houston Ship Channel Toll Plaza
Officials say they've seen an uptick in traffic on the Houston Ship Channel Bridge. Between 2011 and 2014, the number of vehicles using the bridge has increased by about 25-percent. That's expected to go up another 15-percent by 2017.
HCTRA's Mary Benton says the job now is to make sure everyone knows that the cash-paying days are coming to an end.
"We have the signs out on the bridge," Benton said. "In addition, the toll collectors are passing out information to cash drivers to let them know."
HCTRA says the plan is to close the bridge the weekend of January 9th, so they can tear down the old toll booths. And by the following Monday morning, everyone will be expected to have an EZ TAG.
The ship channel bridge isn't the only place where HCTRA is making changes. The Hardy Toll Road is also going all-electronic, and that process should be complete in June of 2016.