State inspectors are demanding Planned Parenthood clinics turn over five years worth of patient and employee records. The move comes as Texas tries to cut off its Medicaid funding.
The state began its efforts after an anti-abortion group released several undercover videos, which they claim proves the organization is selling fetal tissue for profit, something Planned Parenthood denies.
One of the clinics visited was Houston. Spokeswoman Rochelle Tafolla wondered if they may be looking for evidence that Planned Parenthood used taxpayer dollars to terminate abortions. She says they're already barred from taking Medicaid money to do that.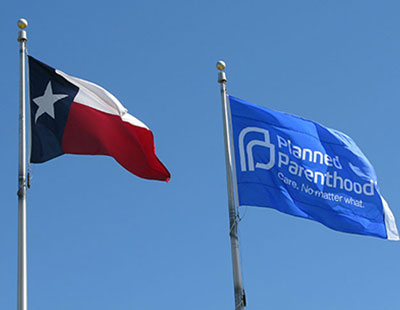 The flags of the State of Texas and Planned Parenthood
"So women are coming to us from Medicaid for birth control, for well woman exams, breast exams, testing and treatment for sexually-transmitted infections," Tafolla said. "And that is the overwhelming majority of the services we provide."
State Senator Sylvia Garcia said she's worried constituents won't get needed care. And she calls the state's move political bullying.
"The law says a Medicaid patient has the freedom of choice to find her own provider," Garcia said.
Texas Gov. Greg Abbott said earlier this week that the decision was not political. Instead, it stems from an ongoing fraud investigation.
"The inspector general says there are more examples of Medicaid fraud by Planned Parenthood. In fact, even the Department of Justice agreed with us on that issue," Abbott said. "That what Planned Parenthood has done is they have billed for services that were either medically unnecessary or were not provided at all."
The state is giving the clinics until Friday to turn over those records. Planned Parenthood says its attorneys are now assessing the state's request.