Greens Bayou Wetlands Mitigation Bank makes up 1,400 acres of protected marshland and hardwood forest that lies just inside Houston's beltway.
Two decades ago, this land was a mix of cattle pasture, some clumps of trees and swamp. Harris County acquired the land in the early 90s, and worked with the Army Corps of Engineers to designate it as a "mitigation bank."
It works like this: the federal government says wetlands are so important to our environment that there can be no net loss. So when developers or agencies build something on a wetland, they can purchase credits from a wetlands mitigation bank to offset the loss. The bank then preserves the wetlands in perpetuity.
The program is run by the Army Corps of Engineers. Part of the process of establishing a bank involves a careful study of the land: not just what's on it, but also, what lies beneath – like oil or gas.
Jonathan Holley is with the Harris County Flood Control District, the agency that oversees Greens WetBank.
"On this particular mitigation bank, there is no active oil and gas exploration and there's no mineral rights that would lead to future oil and gas exploration," Holley said.
But by reviewing maps and state oil and gas data, the Chronicle found six of 49 Texas mitigation banks with producing natural gas or oil wells.
One of those banks is owned by outspoken University of Texas System regent Wallace Hall.
"When you start looking at what you're going to do with lands that are prone to being wet, you're limited in what you can do," Hall said in an interview. "So I came up with a plan for mitigation banking."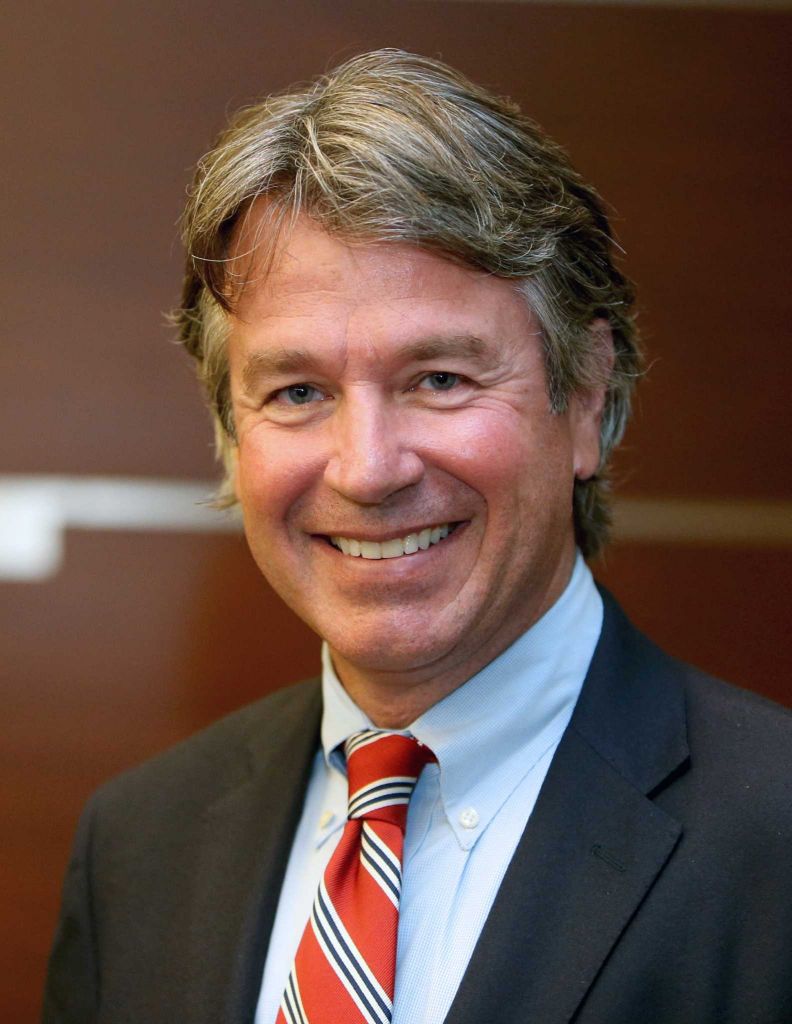 Wallace Hall is the president of Wetland Partners, which operates the Trinity River Mitigation Bank, a wetlands bank created for the purpose of mitigating U.S. Army Corps of Engineers approved environmental impacts to the aquatic system per the Clean Water Act. Public and private companies that need a federal permit to destroy wetlands can pay a mitigation bank, which in exchange restores or enhances wetlands. (Gary Coronado/The Houston Chronicle)
Hall is a Dallas businessman, a Tea Party favorite and a crusader for government transparency and the free market. So, when his family inherited around 1,300 acres on a Trinity River floodplain in Ft. Worth, Hall looked for a way to make it profitable.
He started working with the Army Corps of Engineers in the late 90s to set up his new business: Trinity River Mitigation Bank. For the next four-and-a-half years, Hall planted and seeded and enhanced his wetlands. And later, he leased the land for oil and gas exploration and sold the mineral rights.
"That way, it was in the contract, it was in advance, and we addressed it on the front end. Which proved to be good business management," Hall said.
There are 36 permitted well sites on Hall's mitigation bank, though only 17 are producing natural gas, according to Railroad Commission of Texas records.
State documents also show that workers drilling within the boundaries of Hall's mitigation bank have used hydraulic fracturing, or "fracking." It involves injecting large amounts of water, sand, and chemicals at high pressure into horizontally drilled wells.
Robert Howarth is a Cornell University professor of ecology. He thinks hydraulic fracturing within wetland mitigation banks is a terrible idea.
"It's a heavy industrial process that is fairly polluting and destructive of the landscape," Howarth said. "How can that possibly be compatible with wetland mitigation and protection?"
The federal government issued new regulations for mitigation banks in the spring of 2008. The rules said the banks must "prohibit incompatible uses," and "mineral extraction" was listed as an example.
But the rules included a caveat: Each Army Corps of Engineers district would determine on a case-by-case basis what uses – including mineral extraction – would be allowed.
Brent Jasper, the mitigation bank coordinator for the Corps' Fort Worth District, said because Hall was already operating his mitigation bank before the new rules took effect in 2008, he's exempt.
Hall doesn't control the mineral exploitation happening on his mitigation bank. But he does get a distribution payment from Dorchester Minerals for his initial sale of the mineral rights. He's sold millions of dollars in wetland mitigation credits to businesses and governments, including $1.7 million in credits to the Texas Department of Transportation. And, he says, there is no conflict here.
"I mean, this should be a case study in environmental care and success, not criticized by people who don't know the circumstances of the bank," Hall said.
Mary Kelleher and her husband have lived next to Trinity River Mitigation Bank since 2007. She wonders who regulates it.
"I understand the importance of gas drilling," Kelleher said. "But when I've watched first-hand how it's done with little or no oversight, and they allow the gas drillers to serve as their own oversight, it's kinda like the fox guarding the henhouse."
But Hall stands by his bank.
"The question you should ask is: What would have happened to these lands had I not done the mitigation bank?" Hall said. "I don't believe people will preserve anything unless you attach a monetary value to it."
Hall points out that a wide swath of land north of his mitigation bank also used to be wetlands.
Now it's a gravel mine.