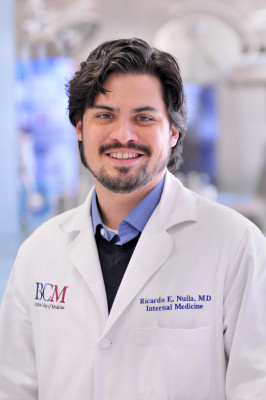 Dr. Ricardo Nuila writes short stories and essays while also working at Ben Taub and teaching young doctors and writers. Photo credit: Baylor College of Medicine
There is a long tradition of doctors who also write, including the poet William Carlos Williams, the Russian playwright Anton Chekhov, and the author of Jurassic Park, Michael Crichton. Houston now boasts its own up and coming doctor-author, Dr. Ricardo Nuila. Nuila teaches medicine at Baylor, works at Ben Taub hospital, and also teaches creative writing at the University of Houston. He's been published in McSweeney's, the Atlantic, and the New England Journal Of Medicine, among others. Nuila recently won an emerging writer's award from the literary journal New England Review.
News 88.7 Health and Science reporter Carrie Feibel sat down with Nuila to talk about the intersection of medicine and literature. Listen to the conversation above.
Nuila says writing and even reading fiction allows doctors to hone their skills of observation, and to see the role that narrative plays in patients' lives.
"It heightens your skills for empathy, I believe and it heightens your perception of patients," Nuila says. "I, as a writer, am always looking for clues from reality. I'm always paying to how patients speak."
More by Nuila
Essays:
Short stories:
Videos: