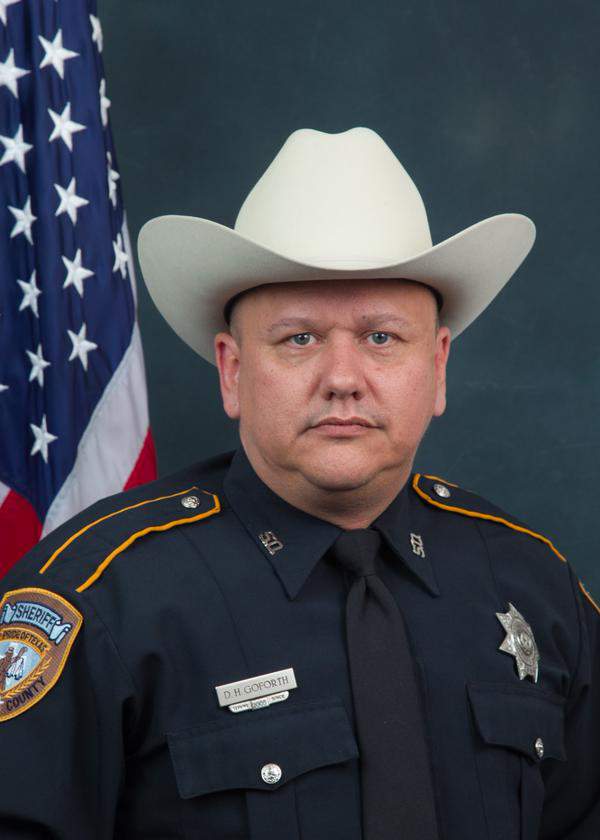 Harris County Deputy Darren Goforth was a 10-year veteran of the force. He is survived by a wife and two children. Credit: HCSO
Funeral arrangements for Deputy Darren Goforth have been scheduled for Friday, September 4, 2015.
Second Baptist Church, 6400 Woodway Drive, Houston, TX 77057
Viewing: 10:00 – 11:00 am.
Service: 11:00 a.m.
Followed by the interment:
Woodlawn Cemetery, 8010 Katy Fwy, Houston, TX 77024
Map of both locations
Governor Greg Abbott ordered Texas flags to be lowered to half-staff on Friday.
"Texans across the state are uniting in support of Deputy Goforth and every law enforcement officer who puts their life on the line each day in order to keep Texas safe and strong," Governor Abbott said. "We must come together to honor Deputy Goforth and the essential role law enforcement plays in serving and protecting our states's families and communities. Therefore I ask all Texas flags to be lowered to half-staff on Friday, September 4th, to honor the bravery, the dedication and the everlasting memory of Deputy Darren Goforth."
Abbott also ordered law enforcement officers to activate their red and blue lights for one minute at 11 a.m. on Friday, signalling the start of the memorial service.
Related Articles:
Suspect In Shooting Death Of Deputy Makes First Court Appearance