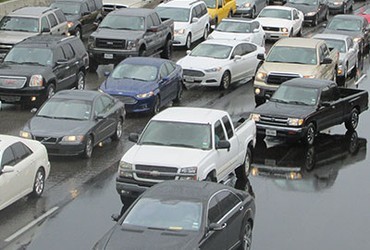 A new study from the Texas A&M Transportation Institute ranks Houston eighth on its list of U.S. cities with the worst traffic gridlock. That's up from 14th in 2008.
TTI researcher Tim Lomax says the numbers reflect Houston's rapid population growth and strong job market. But he says those economic gains come with a cost. According to the study, Houston drivers spend an average of 61 hours a year sitting in traffic, and that burns up about 29 gallons of gas.
"If you put a dollar value on those two components, you get almost $1,500 in what you might think of as a congestion tax for the average auto commuter," says Lomax.
Lomax says you also have to factor in the frustration level. He says when things get this congested, drivers have to give themselves extra time to get to appointments. And when they arrive early, all they can do is sit and wait.
"When you get to the dentist's office, it really doesn't matter how great the magazines are, you really feel like you are much less productive," says Lomax. "Even if you're on your smartphone or whatever."
As for fixing gridlock, Lomax says it's not just up to the government. He says there's a lot private businesses can do, like offering employees flexible hours or telecommuting.