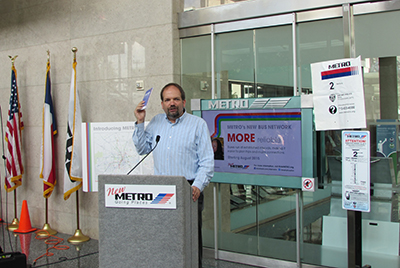 Board member Christof Spieler says riders can go to Metro's website to get trip-planning tools. Customer service representatives will be available along the routes to answer riders' questions.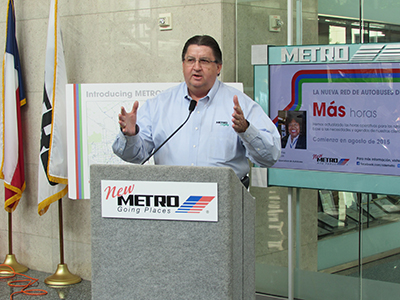 Metro CEO Tom Lambert says more frequent routes are designed to increase ridership.
There was a festive gathering in the lobby of Metro headquarters as employees gathered for the kickoff of Houston's new bus network. But the real work begins early Sunday, when riders wake up to find all new routes. It's all part of Metro's efforts to boost ridership by offering more frequent service.
But as part of the redesign, some routes will see significant changes, and that means some familiar bus stops will be moved.
To help riders learn the new system, Metro CEO Tom Lambert says they're expanding the hours for their customer service help line. They'll also have supervisors driving all the routes.
"We're going to make contact with anybody that may be at a stop and they need help," says Lambert. "They can flag us down."
Metro board member Christof Spieler says bus operators have also been trained to help people get around the new system.
"The reasons we made fares free is so that they have more of their time to give our passengers information," says Spieler.
Metro is offering free rides on all its local buses and trains August 16-22. The free rides do not apply to park and ride buses.
The real test of the system comes Monday morning as thousands of people will be taking the new routes to work.