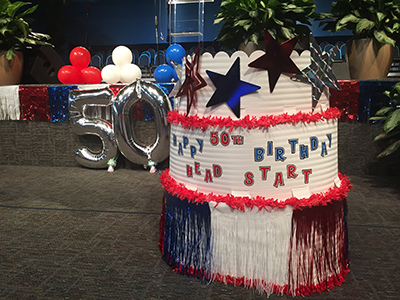 Hundreds of teachers gathered in Southwest Houston for a big birthday party.
The federal early education program known as Head Start is turning 50 years old, so they sang "Happy Birthday" and ate cake.
"The birthday wish for Head Start that I always have every year is that funding continues because I've seen the success," said Diane Stanton, who directs the Head Start programs at Neighborhood Centers Inc.
It enrolls more than 2,000 children in Houston and is expanding to Fort Bend.
But Stanton said that Head Start needs to expand even more.
"Because we are not serving near the amount that we need to," she said. "Our program is pretty standard with having 900 plus children on a waiting list, and I need more dollars."
Stanton said that, according to research studies, children who attend Head Start do better in school than kids who didn't have any pre-K.
Monica Botello agreed. Her three children all graduated from Head Start.
"They are very outspoken and they've learned how to go about their education better than if I had kept them home or kept them in a day care," said Botello, who now serves on a policy committee for Head Start at Neighborhood Centers Inc.
Overall, more than 32 million children have participated in Head Start, since it began 50 years ago.