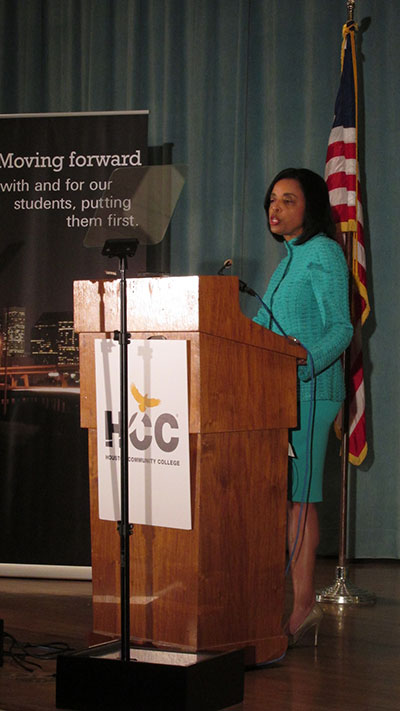 HCC's acting chancellor Renee Byas gives the 2014 State of the College address in January of that year.
A legal fight between Houston Community College and its former acting chancellor is over.
The HCC board of trustees approved a settlement at a special meeting this week.
According to the settlement documents, HCC will pay its former executive, Renee Byas, $500,000 to settle the lawsuit.
Byas is also getting a letter of recommendation.
"So they settled and she's able to move on now without the smirch on her reputation," said Rusty Hardin, the high-profile Houston attorney who represented Byas in the case.
Byas led HCC for more than a year as acting chancellor and also served as general counsel.
The legal fight has proven expensive for HCC. The college has to pay her attorneys $350,000. Plus, HCC spent more than $1 million for its own legal teams.
"So they end up spending over a million dollars' worth of the public's money on a totally fabricated lawsuit when all they had to was reach a settlement agreement with her from the very beginning without requiring her to hire lawyers and so on," Hardin said.
The lawsuit started after HCC fired Byas last August.
She countersued and alleged that she was ousted because she told the FBI her concerns that board members were using bond money as a private slush fund.
HCC declined to comment on the settlement.
"Renee was a really diligent public servant before she was fired," said Jennifer Brevorka, who worked with Hardin on the case.
"She really put in a good amount of time serving HCC and I think in the end she's satisfied with the settlement because it puts her in a position where she can serve the public again."
settlement
Related Article:
Lawsuit: HCC Trustees Wanted To Steer Contracts To Friends, Family