It was a packed house at Metro's board meeting back in May, after word started getting around that Houston's bus routes were in for some big changes.
One group in particular was very vocal, and those were the residents of Corder Place, an apartment complex for the disabled who are raising children and grandchildren.
The complex is on Peerless Street, a narrow strip of road in southeast Houston. Many of those residents don't drive.
It was at that meeting that we met Patricia Hall, who was there with her neighbors to talk about the 60 South MacGregor bus that currently goes right in front of their complex.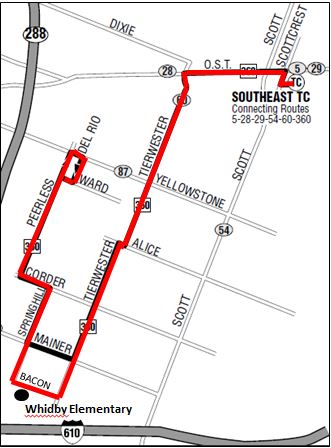 Metro's Peerless Shuttle will take riders to Whidby Elementary School and the Southeast Transit Center.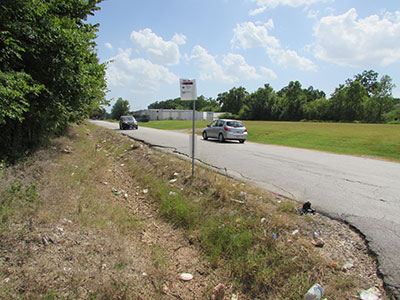 Another bus stop a few blocks down on Peerless is located in a trash-strewn ditch.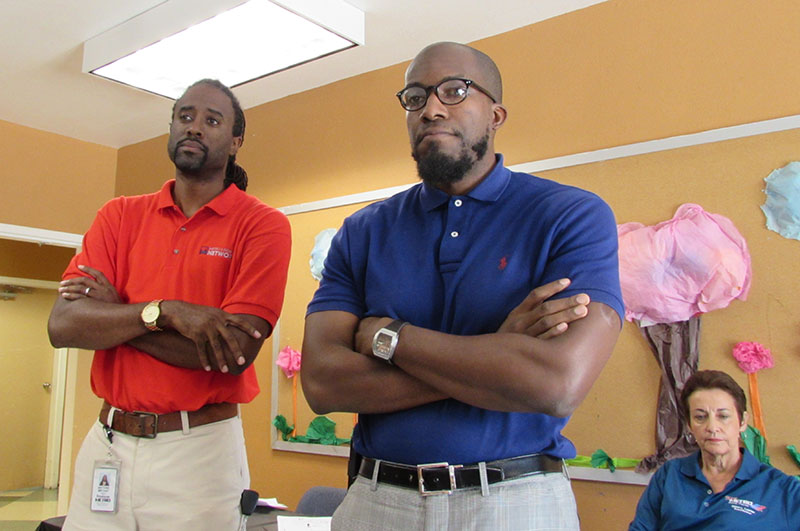 Metro Stakeholder Affairs Representative Antoine Bryant (left) and Service Planning Manager Ken Brown answer questions from Corder Place residents. Seated is Metro Board Member Diann Lewter.
As part of the bus network redesign, Metro is altering that route a few blocks to the east, to Tierwester, a larger street with sidewalks that can better handle big buses. But Hall bluntly told former board member Alan Watson that getting there would be an ordeal.
"If that was your mother, and she was handicapped and she had to carry groceries home from that far, would you expect her to do so, sir? I'm angry. I'm extremely angry," Hall told Watson.
After hearing Hall's impassioned pleas at the Metro board meetings, we went to see the situation for ourselves. On a hot and windy afternoon, we talked to Hall at the bus stop in front of the complex.
"If they didn't have this and I had to walk all the way down to Yellowstone, which is a fourth of a mile, eighth of a mile, to catch a connecting bus, and then go buy groceries, carry those groceries all the way back from that area, I couldn't do it," said Hall. "I just could not do it."
Hall is a lifelong resident of the neighborhood, and she moved to Corder Place with her 13-year-old grandson late last year. She's disabled because of knee and back problems and she's been through multiple surgeries.
But despite her disabilities Hall says she gets around quite a bit and she was excited to move close to a bus line. But many of the stops aren't easy to access. Peerless Street doesn't have sidewalks and it's lined by big ditches. Some stops are literally in the ditch, surrounded by trash and old tires.
Metro board member Diann Lewter said after she heard Hall's complaints she toured the neighborhood for herself.
"You know sometimes sitting in a board meeting, you think people are coming in and exaggerating their issue because they want something fixed that they want," said Lewter. "This is a case where something needs to be fixed because it needs to be fixed."
After outcry from Hall and other neighbors about the loss of their bus route, Metro did come up with a fix. Officials came to Corder Place to announce a new service called the Peerless Shuttle. It's a smaller bus that will run through the neighborhood seven days a week. Officials also agreed to expand the hours to accommodate school kids and people in the surrounding neighborhood who work at night.
Service Planning Manager Ken Brown is helping Metro design the new schedules.
"For this specific community we're trying to address something, that you know, to be completely honest, we missed," said Brown. "But now we're responding to it."
Metro officials say the Peerless Shuttle could eventually be replaced with something they're currently trying out in Acres Homes, and that's a Community Connector bus. It's an on-demand service that can take riders door-to-door in the neighborhood. They can also use it to get to major routes.
But Metro says streets in the neighborhood need to be improved before they can start that service, and that's something Patricia Hall is working on as well. After that feisty exchange at Metro's May board meeting, Hall is also taking her complaints to other agencies.
"I want to see this community build up," said Hall. "And with the city's help I think we can do it."