The bus training facility stays busy these days at Metro's Fallbrook Garage, and that includes time in a bus simulator. When these drivers hit the streets they'll operate under an entirely new system, as Metro revamps all its routes in an effort to attract new riders.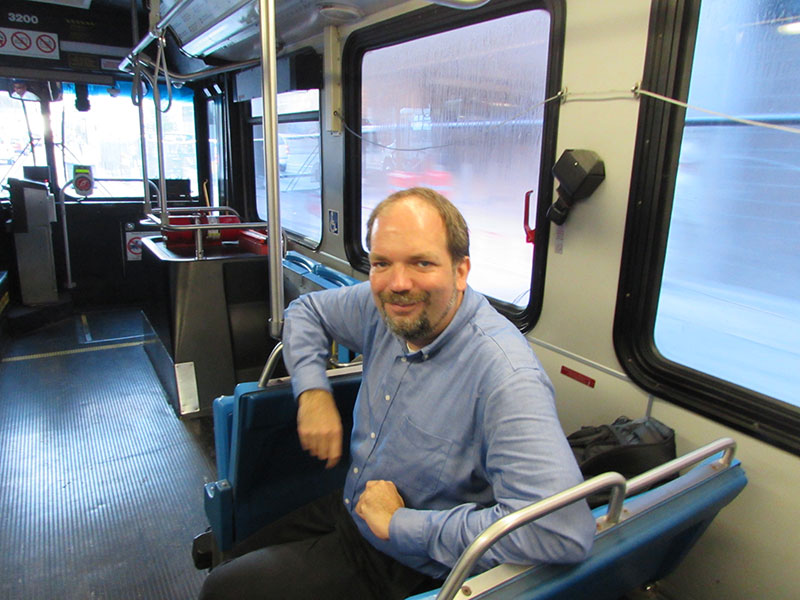 Metro board member Christof Spieler uses bus and rail for most of his trips around town.
To learn what's behind the redesign we took a ride on the Westheimer bus with Metro board member Christof Spieler. He travels mostly by public transit, and was a rider even before he joined the Metro board.
As we traveled through downtown toward the Montrose, Spieler talked about the reason for the changes.
Conversation
Spieler: There's two really big concepts here. The first one is frequent service. The route we're on right now, the Westheimer route, is the only route on the current system which runs every 15 minutes or better seven days a week. And 15 minutes is really a magical number because you can do what we did this morning, which is walk up to a stop without looking at a schedule and know that a bus will be along soon enough, that you can just show up and go. So that's the first really big concept. Rather than having one of those routes running frequently, seven days a week, we'll have about 20 of them.
The second big concept is the idea of a grid, instead of having a radial system where we have a lot of people who need to go into downtown to make connections. For example, if you want to go from the Heights to Memorial City, you've go to ride east to downtown and then back west to Memorial City. Under the new system, it's a grid. These routes cross each other, which means you get more logical connection locations.
For example, that same trip, now you can connect at Northwest Transit Center. So you simply ride west, get on another bus going west. It saves you about 40 minutes one-way, simply by setting up your connection in a more logical place.
Delaughter: Some people ride routes that have a lot of service but don't have high ridership and they are going to see some of that service cut. What's your advice on using the new system?
Spieler: I think a lot of them will find they can still do what they need to do. It may not be as convenient. And we're not talking about a lot of people here.
I think we have to realize that Metro is a government agency, and how much service we provide is determined by how many tax dollars we get every year. Essentially we have a limit as to how much service we can provide based on our budget. And part of what we need to do is ask the question, where can that do the most good.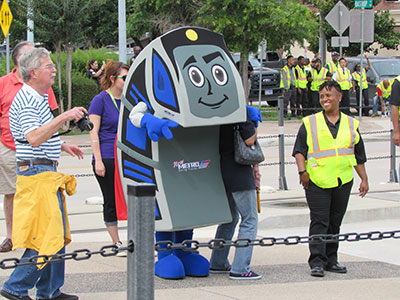 Wheelie" is Metro's mascot for the new bus network
And that's part of what we're doing here. We're putting service where the needs are the highest, where the demand is the greatest. But we've gone through an extraordinary effort to make sure current riders don't get left behind. 83% of people will have service at the exact same spot where they get on and ride now. And out of the rest, nearly all of them are within a quarter-mile of service. So we've really worked hard to make sure that we're not taking service away from people, and the vast majority of our riders will see much better trips.
Delaughter: How do you guide people through the new system, teach them how to use it, and show them how it can work for them?
Spieler: We have a huge amount of information out there. You go to our website, you'll find the trip planner which lets you plan your trip under the current system and under the new system. You'll find all of the new routes on there.
But I'd say the biggest thing is this, if you look at the new system map it's simply a much more logical system. And you don't even need technology to figure out the system. You can just look at that map and say, number one, here's where the best routes are, here's where the most frequent routes are. And number two, here's the logical connections that make sense for that trip. It's really a system that's become a lot easier to understand with a lot less information.
Click here for more information on Metro's new bus network.