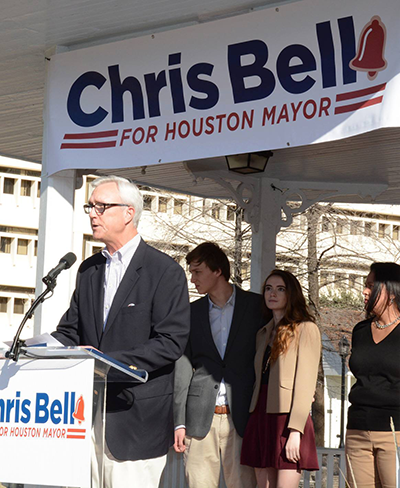 Chris Bell announces he's running for Houston mayor. From Bell's Facebook page
Chris Bell is a former congressman and served on Houston City Council from 1997 to 2001. He has run for mayor before, in 2001, and also ran for governor in 2006.
It was his time on city council that made Bell think Houston needs to modernize.
"We're perfectly positioned to go to the next level and not only be the fourth largest city, but to actually start acting like the fourth largest cities and become one of the most modern cities in the country," said Bell, who is a Houston-based litigation attorney.
Bell is a Democrat and is in favor of the Equal Rights Ordinance and more public transit. But he also calls himself a fiscal conservative who wants to do away with the city's revenue cap and limit pension benefits for future city employees, including firefighters.
"And I think the concentration has to be on the incoming firefighters, we honor the deal that we made with the existing firefighters, but try to get them to negotiate a new plan going forward that will be sustainable for the system," Bell said.
Bell said he'll address five key issues that affect Houston: streets, public safety, education, mobility and finances.