The sun isn't even up yet, but commuters are already waiting for the bus near the intersection of Memorial Drive and Dairy Ashford Road in Houston.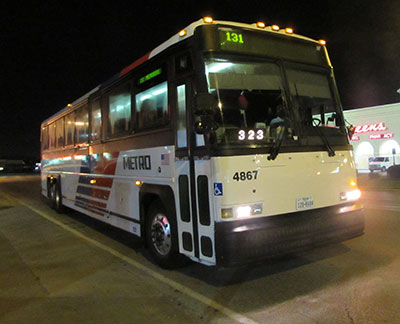 Metro's 131 Memorial takes early morning commuters downtown.
One of those riders is Lynn Gonzalez. She does accounting for a waste management firm in downtown Houston, and she's one of the regulars on the 131 Memorial.
The bus makes several stops an hour on Memorial, west of the Beltway. It then hits the Katy Freeway into downtown.
The trip takes Gonzalez about 40 minutes.
"I've gotten to know a lot of people, made a lot of friendships over the years," Gonzalez says. "And I think that's part of it too. I enjoy seeing the same people every day."
But Gonzalez says she's now reconsidering her commute, and that's because the 131 is being eliminated.
In its place, Metro will run the new 162 Memorial Express. It will still get riders downtown, but it will only come every thirty minutes during the morning commute.
Luz Renteria is another longtime rider of the 131. She uses it to get to her job at a downtown oil and gas firm.
Renteria says she'll try the new route, but if it winds up taking longer, she may consider driving, even though she'll have to pay at least $100 a month to park.
"But I've also got kids at home. And I'm already gone from home nearly 11 hours," Renteria says. "So now you're telling me I'm going to be gone 12, 13 hours a day for the exact same work hours. So it's just not very convenient."
Those riders want to know why Metro is getting rid of something they say appears to be working. So we asked Kurt Luhrsen, Metro's Vice-President of Planning.
Luhrsen says even though the 131 bus route has some devoted fans, the route has been steadily losing riders.
"The last 15 years has seen ridership on that route decrease by over a third. So it's gone from nearly 2,500 a day to just about 1,700 a day," Luhrsen says. "So while we might have five trips an hour right now, in the peak hour there at 6:00 o'clock, we might be carrying 10, 12, 14 people on a bus that has 57 seats."
So while the Memorial route is seeing cuts in its weekday service, Metro says the goal of its network redesign is to increase frequency on its busiest routes to try to boost sagging ridership and extend serviceto where the population is growing.
One route that will be seeing more frequency is along Cavalcade Street, on Houston's north side.
The current 26 Outer Loop bus will be replaced by another route, the 26 Long Point/Cavalcade. It'll have buses every 15 minutes during the morning and midday.
We caught up with bus rider Melissa Bittinger as she waited at the stop near the intersection of Cavalcade Street and Airline Drive. Bittinger is a home health care worker who rides the route to visit clients, and she has some horror stories about waiting for that bus.
"Apparently there was a train and so they took a detour and the detour totally bypassed probably 8 to 10 stops. And so we had to wait for an hour and a half," the longtime bus rider says.
Bittinger says she's still a bit skeptical about the new frequent service. But if it works, it'll make her life a lot easier.
"It would make me actually be able to sleep a little bit later, if I could get here on time," she says. "It would be an awesome experience if that was actually to happen."
Back at Metro Headquarters, Kurt Luhrsen says one of the main goals of the new bus network is to create a more efficient system. But that can mean some tough choices that some riders may not like.
"We have made some allowances and we've had some trade-offs to try and keep serving our existing riders as we can," Luhrsen says. "But also acknowledging our core base of riders are limited in where they can go in the system right now."
Metro's new routes go into effect August 16.
This story was informed by sources in News 88.7's Public Insight Network ®. To become a news source, go to www.houstonpublicmedia.org/pin.