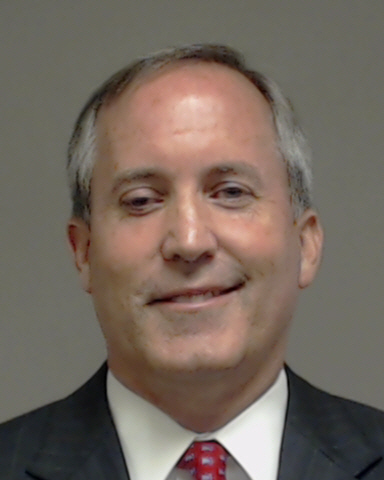 Texas Attorney General Ken Paxton mugshot. Image from Collin County.
McKINNEY — Texas Attorney General Ken Paxton, the state's top law enforcement officer, turned himself into jail Monday to be booked on felony securities fraud charges.
Wearing a pin-striped suit and a red tie, he smiled slightly for his booking photo. Then, he was promptly released from the Collin County Jail on $35,000 bond, according to records with the local sheriff's office.
Paxton then apparently slipped out of his hometown courthouse unnoticed, eluding a throng of waiting media and Democratic protesters. Neither Paxton nor his lawyer, Joe Kendall, planned to make a public appearance after the booking, according to a spokesman for Kendall. Paxton's side is expected to issue a written statement on the case later Monday.
Paxton faces three counts: two for securities fraud involving more than $100,000, and another for acting as an investment advisor or representative without registering.
The indictments, unsealed about noon Monday, allege Paxton committed fraud in July 2011 by offering to sell stock in a tech company to two people without telling them he was an investor in that company.
One of those people is believed to be state Rep. Byron Cook, R-Corsicana. The other is named in the indictment as Joel Hochberg.
The Texas GOP quickly jumped to his defense. The statewide party released a statement minutes after his booking that criticized the "sloppy process" that led to the charges.
"Ken Paxton, like all Americans, deserves to have his say in a court of law, rather than be judged in a court of public opinion that is presided over by liberal interest groups," said Aaron Whitehead, the party's spokesman.
But Democrats and liberal groups immediately called for his resignation.
"Ken Paxton has abused people's faith in his public office," said Craig McDonald, executive director of Texans for Public Justice, which filed a criminal complaint related to Paxton's case. "He has engaged in outright deception to personally profit at others' expense. These qualities make him dangerously unfit to be attorney general."
Much of Paxton's case has played out in public since even before he was elected in 2014. The State Securities Board first investigated him while he was a member of the Texas Senate. The board reprimanded and fined him $1,000 last year after he admitted to soliciting investment clients for a friend and business partner without properly registering with the state.
The case lay dormant for months – aside from efforts by election opponents to use it against him. Then, around the turn of the year, the public integrity unit in the Travis County district attorney's office briefly investigated — and then decided that it didn't have jurisdiction to file charges. The case moved to Collin County, where the district attorney assigned two special prosecutors from Houston to take charge.
Anthony Holm, a Paxton spokesman, has harshly criticized the work of those two prosecutors, Kent Schaffer and Brian Wice. News has regularly leaked out about their investigation, and Holm has accused them of being politically motivated publicity hounds.
Some conservatives have compared the case to other indictments of Texas Republican leaders, including former Gov. Rick Perry and former U.S. House Majority Leader Tom DeLay.
The special prosecutors have denied any political motives, nothing that they were appointed by a Republican judge from one of the most conservative areas in the state. Wice, in fact, worked as a defense attorney for Delay during his criminal case.
Matthew Watkins contributed to this report.
This article originally appeared in The Texas Tribune at http://www.texastribune.org/2015/08/03/paxton-set-surrender-securities-fraud-indictment/.