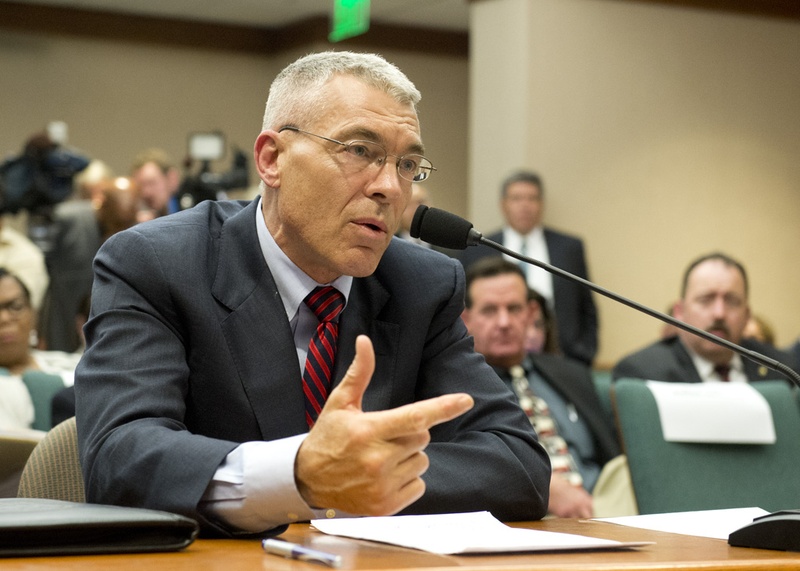 DPS Director Col. Steve McCraw answers questions from State Rep. Garnet Coleman during invited testimony of the House Committee on County Affairs investigating the Sandra Bland death in Waller County on July 30, 2015.
State lawmakers grilled Texas Department of Public Safety Director Steve McCraw on Thursday, voicing concerns about arrest procedures used by the state police and pressing the agency head to explain the July 10 arrest of Sandra Bland, who was found hanged three days later in the Waller County Jail.
"I know the death happened in the jail, but the catalyst for the death clearly happened at the traffic stop," state Rep. Jonathan Stickland, R-Bedford, told McCraw, who endured an hour-long interrogation from members of the Texas House Committee on County Affairs.
On July 10, state Trooper Brian Encinia pulled Bland over in Prairie View after she failed to use a turn signal before making a lane change. During the course of the traffic stop — recorded by a camera fastened to the officer's patrol car dashboard — Encinia is seen losing his temper once Bland questions why she should comply with his order to put out a cigarette and exit the vehicle. The trooper has since been placed on administrative duty until investigations into his actions and Bland's death are completed.
Video of Bland's traffic stop, released to the public a week ago on McCraw's order, shows the 28-year-old black woman exiting only after Encinia draws his Taser and threatens to "light" Bland up with it. A bystander's video which first brought national attention to Bland's arrest shows her handcuffed on the ground with Encinia standing over her.
Her arrest and July 13 death prompted committee chairman state Rep. Garnet Coleman to call a special hearing on jail standards and arrest procedures. After Brandon Wood the executive director of the Texas Commission on Jail Standards, detailed how his tiny agency had little power other than to issue citations to county jails, McCraw was called before the committee, which seemed to unload on him the public's collective outrage about Bland's treatment by Encinia.
"What will you do to improve or do something about the training of the troopers? It's clear to me, or at least to most people that the trooper was a little aggressive," said Coleman, D-Houston. "Tell him don't ever throw a black woman to the ground again."
For the most part, McCraw submitted to the dressing down by lawmakers, avoiding specific answers to questions about training that could reveal a deficiency in how troopers are groomed.
"At the conclusion of this investigation you will have the answers," McCraw told the committee. He also expressed condolences to the Bland family and spoke of the "tragedy" of Bland's death.
When Stickland pressed McCraw about why Encinia was still on the job, the DPS chief would only say that he didn't "prejudge any investigation."
Stickland, a known proponent of individual liberty and a fiscal conservative, hammered on Encinia's continued employment several times.
"Texas taxpayers are paying him," Stickland said, visibly irritated. "For a lot of people it's pretty cut and dry what happened. Someone's liberties were stomped on."
McCraw conceded that Encinia was "rude" and had an opportunity to de-escalate during the course of Bland's arrest. "But he escalated."
As for Encinia's continued employment, McCraw would only say: "We do have due process we have to deal with."
State Rep. Nicole Collier, D-Fort Worth, who is not a member of the committee but was invited to sit in, asked McCraw where Bland's cell phone was at this time, and if there was a reason for her to be arrested in the first place. McCraw declined to answer, citing the pending criminal investigation into her death and the internal DPS review of Encinia's actions, which the agency has previously said violated traffic stop procedures.
Stickland tried to elicit some type of explanation of why so much of Bland's arrest took place outside the range of the dashboard camera, wryly speculating aloud that perhaps cameras should be attached to the right side of patrol cars. He also told McCraw there seems to be a tendency for law enforcement to lose control with members of the public when citizens like Bland assert their legal rights.
"There seems to be a lack of respect when people assert their rights," he said.

Stickland also said he was concerned that Waller County authorities were quick to release Bland's toxicology report, which indicated she had marijuana in her system at the time of her death. When the "heat is on," Stickland said it seems almost routine for law enforcement throw out anything in an attempt to discredit someone who died in their custody, no matter how much it violates their privacy.
With such a disregard for private medical information, Stickland questioned whether inmates should provide such information to what he called a "common jailer." If he were arrested, Stickland said: "I ain't telling them nothing."
At the start of the hearing, lawmakers were told that a more thorough mental health evaluation and cell check procedure should have been done once Bland was brought to the Waller County Jail. If both had been done correctly, "it could have lessened the likelihood of this occurring, in my opinion," said Wood, executive director of the jail standards commission.
According to Bland's booking documents released a week ago, she told a jailer that she had attempted suicide in 2015 and had been depressed following the death of a baby. Complicating things is another form, in which Bland said she had not attempted suicide.
The commission said it is already looking at ways to improve the mental health intake form used by county jails and creating an online course for jailers to help them make better mental health assessments of inmates.
This article originally appeared in The Texas Tribune at http://www.texastribune.org/2015/07/30/lawmakers-review-county-jail-procedures-following-/.