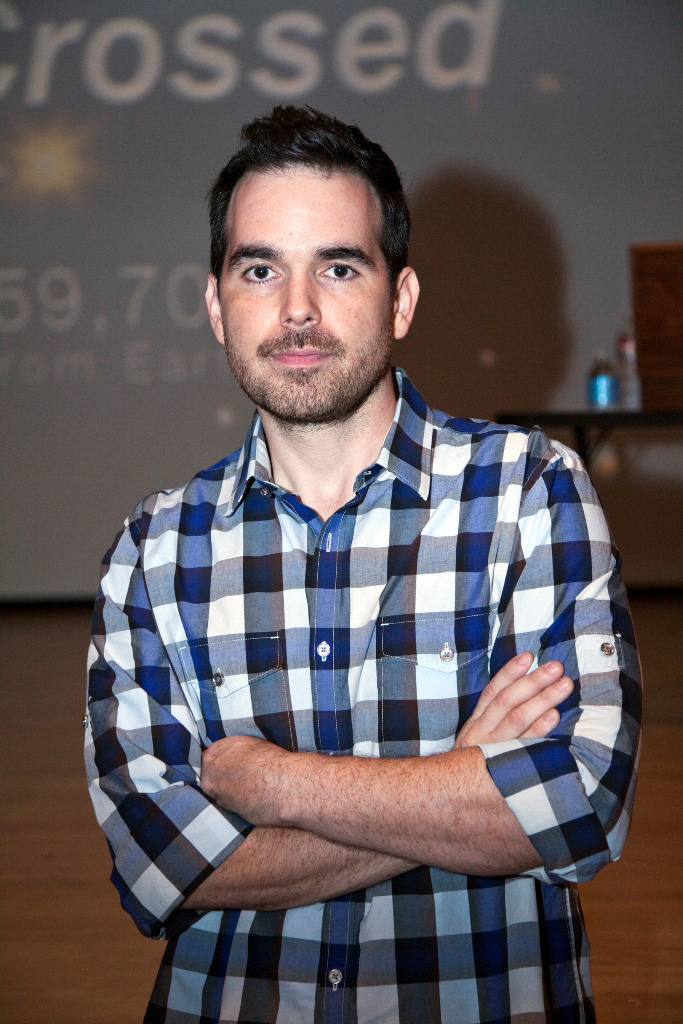 Houstonian Dario Robleto has been named the 2016 Texas State 3-D Visual Artist. Photo courtesy of Texas Commission on the Arts. Photo by: David A. Brown
When Dario Robleto speaks, it's thoughtfully. He punctuates his sentences with brief pauses in the right places, finding his words to tell the compelling story of his dream that's come true. The Houston artist is also incredibly humble, even while explaining how he's been recruited for a project of astronomical proportions.
He's taking part in an initiative led by Russian billionaire Yuri Milner, who's dedicating $100 million over the course of ten years to search for intelligent life beyond Earth.
"He's put together an incredible brain trust… I mean, a Who's Who list of some of the most famous scientists on the planet. Most notably, Stephen Hawking. And then Ann Druyan; my personal connection through the project is through her," Robleto says.
The project, called Breakthrough Initiatives, is twofold: Breakthrough Listen and Breakthrough Message. Milner has appointed Druyan as the person to be in charge of the latter.
"The basic idea is to have someone lead a public discussion – and even a contest ," Robleto says. "To think about what we would send in a signal to communicate and what would go onboard, and why. It raises fascinating questions."
Robleto's and Druyan's friendship started a few years ago. He'd been a fan of the astronomer and cosmologist since his boyhood. When the former wife of Carl Sagan recorded her heartbeat and brainwave activity and shot them out to space on a golden record in 1977, he was able to dial in on his parents' telephone to listen to the sound. It changed his world.
Fast forward a couple decades or so, when Robleto created an art exhibit tied to the experience. He decided to reach out to Druyan, who was incredibly receptive. She even came out to take part in a discussion at the Menil when the work was being shown.
So when he got the phone call from Druyan asking him to join her team, it was like a lifelong dream for the erstwhile biology major. There wasn't any hesitation in giving an answer, having always been enamored by the anything dealing with the cosmos.
"I've never not thought there was life elsewhere in the universe," Robleto says.
But it's more than just a matter of science.
"It is a poetic question. It is a philosophical, existential question that the arts, I think, are uniquely skilled to contribute to," he explained, shortly after returning from a whirlwind four-day stay in London.
He was there to sit in on the press conference moderated by Milner, who announced the experiment. Robleto, however, knew about it months in advance and had to patiently keep mum until the official announcement.
The second initiative, Breakthrough Listen, will involve monitoring responses to the signals sent out. A large chunk of the $100 million will go toward having access to optimal technology – like two of the world's most powerful telescopes – and plans to cover ten times more of the sky than programs of the past. They'll also scan at least five times more of the radio spectrum than ever before.
But Robleto's job is to focus on what's being sent out, not what's coming in. The messages must contain material representative of humanity and life on Earth. The discussion could get pretty cerebral.
"It has cultural-wide implications that we will need to bring skillsets from every discipline to, to think through," Robleto says. "I really hope I can help bring in a general audience, but also an art audience into the discussion."
He referenced an analogy by astronomer Jill Tarter to help skeptics see the bigger picture.
"If you took a glass of water out of the ocean – just dipped a glass in it and pulled it out – Would you come to the conclusion there were no fish in the sea? Nobody would. But that is essentially as much as we've looked to date… That one glass. And this will change that."