Before, Megan Marcus wanted to be a therapist. Now she's a kind of counselor for teachers.
"Stand on up, stand on up! Awareness, empathy, seen and radical acceptance," called out Marcus, naming "tribe" names for a three-day retreat for school leaders this week in Houston.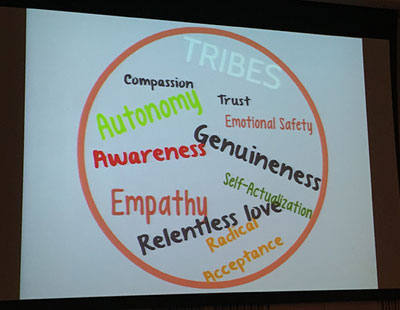 At FuelEd, teacher learn skills like compassion and empathy. These are also the "tribe" names for the small group sessions.
Marcus is CEO and founding of the training group FuelEd.
It's part of a growing trend in education: that students need to learn more than reading, writing and arithmetic. Those are social and emotional skills.
But how can they learn those skills, if their teachers and school leaders don't practice them?
That's where Marcus' training group, FuelEd, comes in.
It's been working with districts and charter schools in Greater Houston since 2012 to coach instructors on things empathy, better relationships and emotional triggers.
"Here we're going to sharing more about ourselves, understanding more about others and doing so is going to enhance our learning and catalyze positive change," said Marcus at the event this week.
Marcus explained that learning happens through relationships, because of how the brain works.
In practice, it may sound less like professional development and more like group therapy.
"And I look back on my past year and when I've been upset with my members of my team, I've been like short, but that's not me," said Derrick Bass as he opened up to colleagues from the YES Prep charter network.
He believes that this emotional component and focus on relationships has been missing from education for a long time.
If it sounds kind of touchy-feely, some teachers at the training agreed.
Stephanie Clayton, also with YES Prep, said that she's found some sessions useful, but she still has reservations.
"Talking about how I'm feeling and thinking for three days sounds like a lot of thinking and feeling and — so that's where I'm still kind of on the fence," she said.
Major school groups, however, have signed up for this training including the Houston Independent School District and the KIPP charter network.