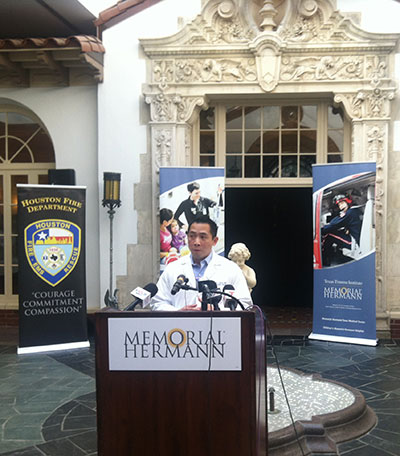 Dr Lapus says Parents should always "Look before they lock"
The Memorial Hermann Texas Trauma Institute held an event on Thursday, warning parents about the dangers of leaving children in unattended vehicles — an action which can lead to heat stroke.
Doctor Robert Lapus is the director of pediatric emergency department at Children's Memorial Hermann Hospital. He said parent's don't know just how hot a car can get on a summer day.
"Sometimes a parent will run an errand thinking that they'll take a minute and it's okay to leave their child in a car. That minute becomes five minutes. Five minutes becomes ten minutes," warned Lapus.
Doctor Lapus said ten minutes is all it takes for a child to suffer from heat exhaustion.
In just ten minutes the temperature inside a car can increase by 20 degrees. In an hour, by 40 degrees.
"At first, they'll get cranky or fussy," said Lapus. "Eventually their bodies ability to compensate will be overcome and then heat stroke will set in. It happens a lot faster than most people think."
Cracking open a window isn't a solution. Two years ago, a baby was rushed to a Houston hospital after being left in a car with the windows rolled down a few inches.
"Cracking a window does not make a difference in how high the temperature rises or how fast the temperature rises." Lapus said.
The tragedy can happen to anyone.
"It can happen to well-educated, very responsible parents." said Doctor Lapus. "One of the cases I remember is the child actually walked into a car looking for a toy."
For parents, they best solution is to always take your child with you, even for short stops, and lock your doors to prevent other curious children from getting inside an unattended vehicle.
Don't forget: #LookBeforeYouLock #checkforbaby #hounews @cohoustonfire @memorialhermann @SheriffHickman pic.twitter.com/Cpyu78OBbA

— HCSOTexas (@HCSOTexas) July 23, 2015