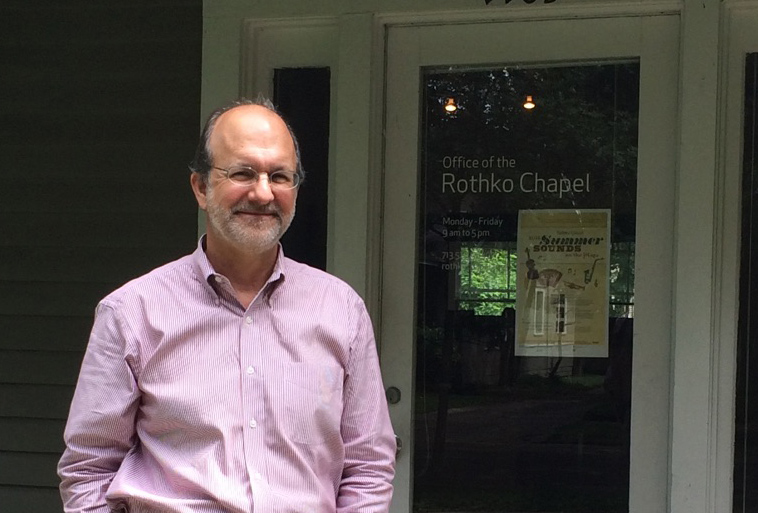 David Leslie, on the porch of Rothko Chapel's office. After 18 years at Ecumenical Ministries of Oregon, he's back in Houston as the chapel's new executive director.
When David Leslie told his 19-year-old son that he'd taken the executive director position at the Rothko Chapel, his son went online to check the place out.
"It's got your name all over it, Dad," he told him over the phone.
That's probably because Leslie's adult life has been centered around working for human rights in some capacity. Most recently, it was as executive director of Ecumenical Ministries of Oregon, a position he held for the past 18 years.
But his career really began before that — and much closer to home.
"I was here for about four and a half to five years and directed Interfaith Ministries for Greater Houston, which I know is a well-known institution in the city," Leslie says. "It really was a great experience … so diverse. And I think working in the interfaith world really was an insight into really that diversity of people."
Leslie grew up in East Texas, born to a father who was a Presbyterian minister and a mother who was a school teacher. He says that led to a natural interest in people and, more broadly, the world. When he went to Austin to study at the University of Texas, he eventually ended up at Austin Presbyterian Theological Seminary.
"And I guess in one sense, you'd say the rest is history," he says, while sitting in his sunny office inside the Rothko's bungalow headquarters on Sul Ross Street. "It wasn't any kind of designed career track, but I worked at Habitat for Humanity and then most recently with Ecumenical Ministries of Oregon. So, I think it ended up being kind of a natural bridge then, to come to Houston to become the director of the Rothko Chapel."
He breathes easier knowing that he's coming to an organization with a clearly-designed plan for the future.
"To have a game plan that talks about some renovation to the physical structure, to be thinking about how we do community-based programming that will involve new people is really, really significant."
In his previous roles, Leslie says his organizations placed a high priority on giving opportunities to college interns. He sees it as a method of creating a strong outreach to the community.
"I think this is what we're really going to see a lot more of here at the chapel — making those intergenerational connections, so that young people coming up can see what their seniors and elders have been doing on the front lines of justice and interfaith/intercultural relations. So to be a part of that is very exciting to me," he says.
The first few weeks of starting a position like this is usually a flurry of activity — meetings, introductions, lunches, dinners, coffee, etc.
But Leslie welcomes it. Right now, his main goal is to meet as many people as possible.
"The other thing that's really significant is really asking the question of people I meet, 'What does the Rothko Chapel mean to you?'" he says. "I think that's a very important part of the orientation — listening for those key concepts and things of deep meaning about this institution, both in people's personal lives. But also in the city and beyond."
The organization is already well into their summer events — some of which are centered around the ten-year anniversary of Hurricane Katrina. Leslie says they're also preparing for the annual Oscar Romero Awards ceremony for the fall, an accolade recognizing heroes of human rights activism.
"So there's a lot going on," Leslie says. "So I feel like, 'Oooh, I'm tired already.' But it's an exciting kind of tired, because it's coming into a place where there's a lot of life and a lot of things happening."