State Senator Brandon Creighton and state Representative Sylvester Turner debated the 2015 legislative session during an event sponsored by The Texas Tribune at the George R. Brown Convention Center.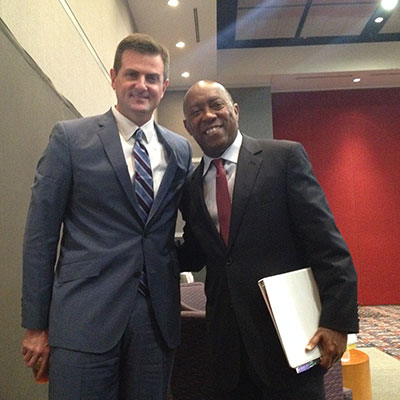 Republican Brandon Creighton and Democrat Sylvester Turner had a friendly debate about the recent legislative session in Austin.
Creighton, a Republican, represents a district that includes the Woodlands, and encompasses Conroe, Beaumont and places in between.
He praised the budget for cutting property and business taxes.
"Anytime that state government can return $4 billion to texas taxpayers, that's a victory," he said.
Turner, a Democrat, represents parts of northwest Houston and Harris County. He voted against the final budget.
Turner said the tax cuts take away from future generations.
"I don't want to dig a hole for legislators for come, these tax breaks are permanent in nature," he explained.
Turner is running for mayor of Houston and is not running for reelection to the Texas house.
Both men agreed the legislature did well with transportation. Billions will be diverted from other funds to transportation, which Turner says will help locally.
"This is a very congested area, the Houston-Harris County area, so I think that's a plus," he said.
But Turner said the overall budget shortchanges public education.
"I would have preferred to see more in our schools," he said. "I don't think we should be waiting and allowing the courts to drive the educational system. I think legislators should step up and do the right thing."
Creighton disagreed, saying the legislature needs to wait for the Texas Supreme Court to rule on a lawsuit over school finance.
"It's my opinion that every time we put additional money into public education we have seen 45 years of courts saying that's not good enough," he said.
The men also disagreed on healthcare. Turner said the legislature's failure to expand Medicaid to help the uninsured will hurt hospitals, including safety-net hospital Ben Taub in Houston. Ben Taub's status as a Level 1 trauma center has been threatened because of the Harris Health system's financial problems.
Creighton countered that Medicaid is a bad program, so he's glad the legislature didn't expand it. He said that covering the uninsured is a "priority" that lawmakers will work on in the future.
When asked afterwards for specifics, he said the federal government should give Texas a block grant with the ability to control all Medicaid spending — something the federal government has never agreed to do with other states. He also mentioned compromise Obamacare agreements such as those hammered out between the federal government and states like Arkansas — but nothing advocating for such an agreement surfaced during the 2015 legislative session.
Houston & the Legislature: A Recap