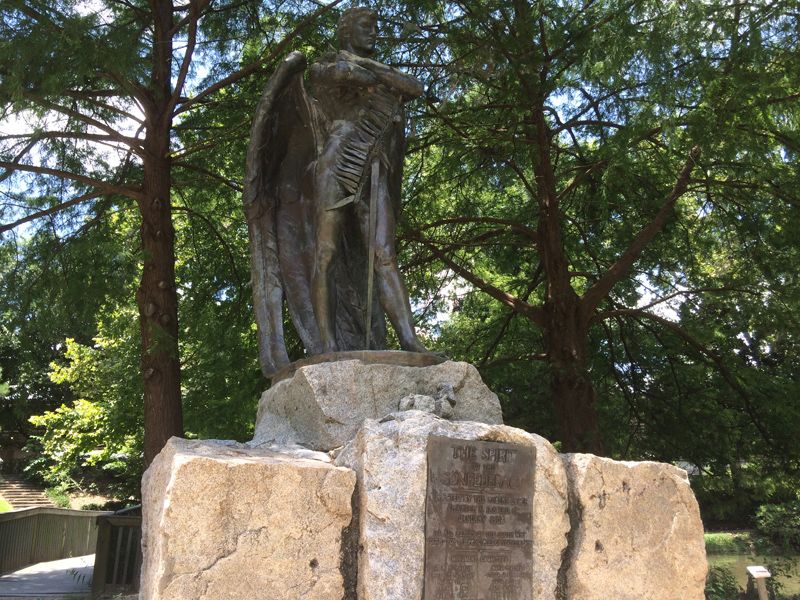 The "Spirit of the Confederacy" statue stands at Sam Houston Park, across the street from City Hall.
You may have never noticed it, but at the bottom of Sam Houston Park downtown, right next to the little pond, stands the "Spirit of the Confederacy," a statue of a winged man with a sword and a palm branch.
The plaque underneath dedicates it to "all heroes of the South who fought for the principles of states' rights."
It's so inconspicuous that even park users I talked to didn't know about it. When Carl Schuessler heard about it, he didn't think statues like this are controversial in any way.
"They represent a time and a place where this country was," he said. "So it's really more of a teaching and a better understanding of where we were and where we shouldn't go back to."
Raechelle Redmond is a little more conflicted.
"Maybe it belongs in a museum," she said. "But is it something that we want to take pride in anymore when so many people are offended by it?"
The "Spirit of the Confederacy" is not the only memorial to the Old South in Houston.
There's a statue of Confederate war hero Richard Dowling at Hermann Park. Dowling Street is named after him, too. And there are some schools in the Houston Independent School District named after Confederate figures.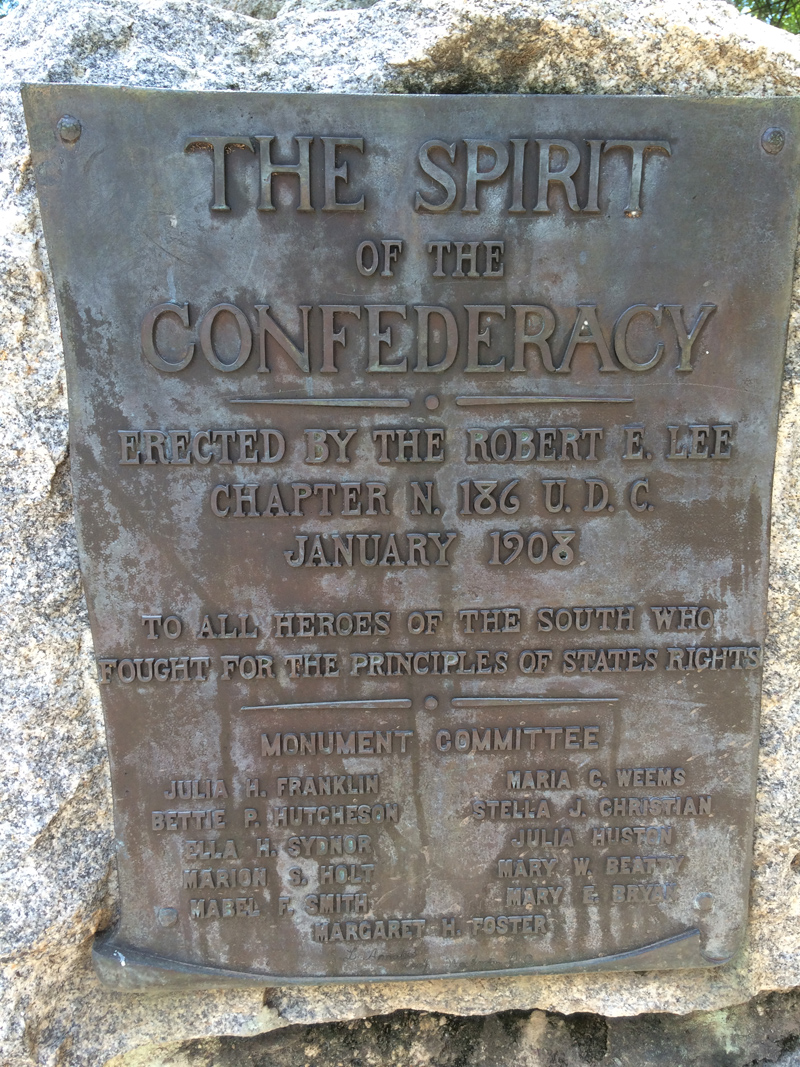 Spirit of the Confederacy
Caleb McDaniel, a history professor at Rice University, said this shouldn't come as a surprise. We live in the South, after all.
"Recent events have made people more aware that they are there, but they have been there for a very long time and they're very common across the South in particular," McDaniel said.
But should these monuments still be here in 2015? Especially after the racially motivated killing of nine people in a South Carolina church, there are many calls across the country to get rid of them.
Houston Mayor Annise Parker said they are part of the city's history.
"There's statues to Andrew Jackson, former president of the United States, scattered all over the place," she said. "And to Native Americans, he was the great exterminator, he committed genocide. So where do we stop?"
Parker did tell Jeremy Hobson of Here & Now that she would melt down the"Spirit" statue at Sam Houston Park, if it ever became a rallying point for racists.