The Texas Organizing Project, an advocacy group for low-income Texans, was protesting outside the construction site for a new 40-story residential tower at Market Square Park Monday.
Tiffany Hogue, policy director for TOP, said the city has its priorities wrong.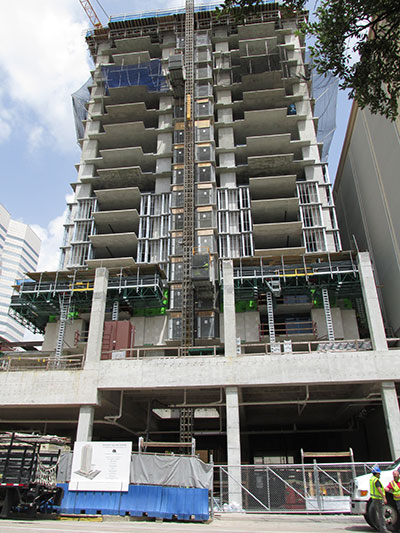 Market Square Tower under construction
"We're spending public money on the Downtown Living Initiative, which is up to $75 million, to encourage downtown high-end residential living, when that $75 million could make incredible difference in our communities," Hogue said.
While developers who take advantage of the tax incentive have to abide by certain guidelines, Hogue says the Downtown Living Initiative doesn't benefit anyone but the new residents of the expensive apartments that are being built.
At-large City Council member David Robinson said there is some return on the investment by the city. For example, by having more people live downtown, more will have access to and use the public transit system.
"The taxing of the system, that is the infrastructure existing, amenities that would otherwise have to be invested in, are going to be essentially be the payback for the city of Houston," Robinson said.
Angie Bertinot with the Downtown District said in the past 10 years, only two residential projects were built.
"There was a reason why people weren't developing residential in downtown," she said. "And a big piece of that was cost of developing in downtown, so there was a need for that program."
Now there are 17 projects, one of which is complete.
Hogue said that may have been the case in the past, but that times have changed.
"There's market pressure to have residential housing downtown," she said. "So there's no need to incentivize it with public money."
She said there are plenty of neighborhoods in Houston that could use more tax incentives for grocery stores to be built, for example.